A hole-in-the-wall treasure situates itself between two colorful buildings on Vine Street. Walking into the bar, we find walls lined with hundreds of board games, and board game-inspired artwork paints the opposite walls.
Moving forward like a chess piece moves across the board, we entered The Rook.
We arrived early on a Saturday night to ensure we would have a table on the main floor. The Rook is known to gather a crowd later in the night.
At first, we were worried that we wouldn't be able to find any two-player games, but a staff member helped us out. Staff members always are walking through the crowds to help find games and explain rules if you're confused. Elizabeth was our extremely helpful guide that night!
The two games Elizabeth chose for us were Lost Cities and Patchwork. We started with Lost Cities.
It was an easy card game, so it was a perfect starter!
Before we set up to play, our waitress took our drink orders. I got the Pretty, Pretty Princess drink, which I recommend because it's a sparkly fruity drink that comes with a candy bracelet. My boyfriend ordered the Hickory Smoked Old Fashion that came in a small mason jar and actually "smoked" when you opened the lid. He loved it, but it was a little too strong for me.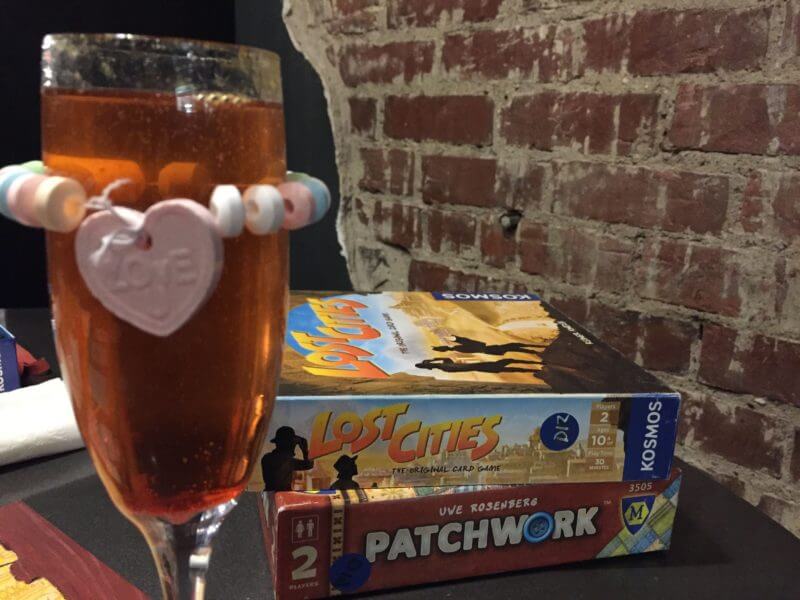 The atmosphere of The Rook is interesting because it's intimate at your own table, but there is a lot of activity going on around you. If you like the activity, you're fine to stay on the main floor! However, if you want a quieter setting, I suggest going for a table upstairs. It's a lot more open and there's a fireplace in the middle of the room.
After we got our drinks, we ordered our food. I got the Pretzel Bites with Fat Tire Beer Cheese, and my boyfriend opted for the Mini Corn Dogs. Both meals were delicious!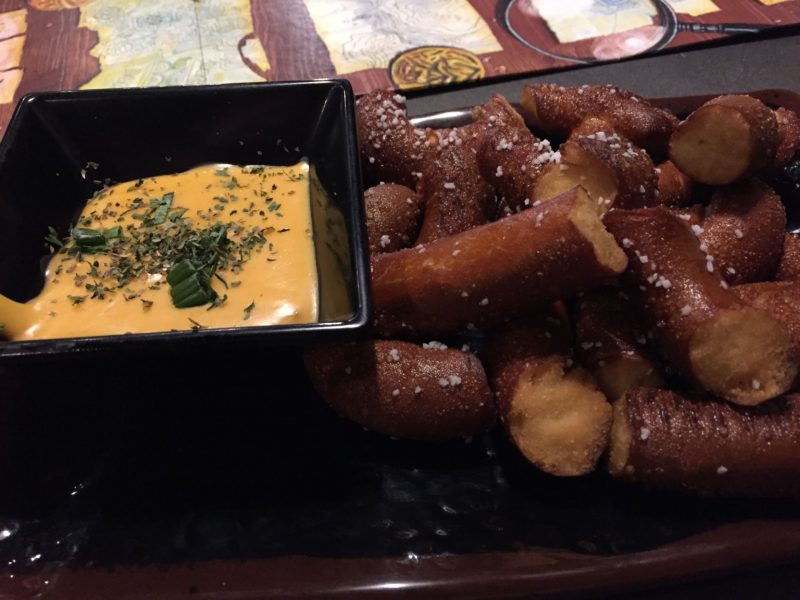 Our game of Lost Cities ended when I defeated my boyfriend in a landslide. We enjoy a little "friendly" competition.
We began our next game, Patchwork. It's a fun strategy game and strictly two player. Since we planned to be there for a bit longer, we ordered two more drinks. Inspired by my beer cheese, my boyfriend decided to go with a Fat Tire Beer. I got the coolest drink ever: Capri Against Humanity. They actually cut the top off of a strawberry kiwi Capri Sun and add rum with a kiwi garnish.
We finished up our game with another win by me! We'll have to go back for a rematch.
If you're interested in an active, competitive and inviting environment, check out The Rook. I'll definitely be back. Want to learn more about board games or need a recommendation? Click here for more details!