Sometimes you just want to snuggle up on the couch with your sweetie, a bowl of popcorn, a glass of wine and a great 'feel-good' film. Romantic comedies aren't always at the top of the date night list for the guys, but there are some that should be! If you're in the mood for a rom-com that you'll both enjoy, check out our list of 10 great romantic comedies for date night at home.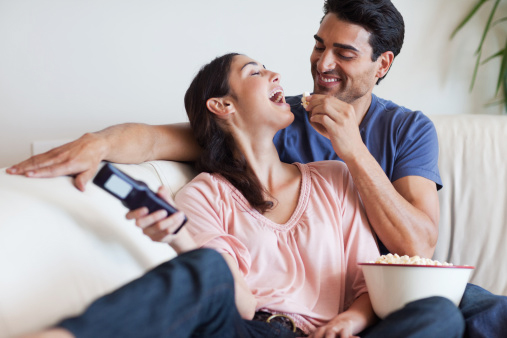 How To Lose A Guy in 10 Days – Matthew McConnaughey and Kate Hudson. Really, that's enough to make everyone happy – right?
Silver Linings Playbook – Again, Jennifer Lawrence and Bradley Cooper should be enough to keep you both happy. And Chris Tucker, for good measure. A great story with great moments- neither of you will be bored.
Scott Pilgrim vs. the World – Video games and superhero action with a love story squeezed in between. You'll both enjoy this movie and want to watch it again and again.
There's Something About Mary – Ben Stiller is his hilarious best, as is Cameron Diaz. Slapstick, but still sweet, this is always a great date night pick.
The Wedding Singer – Who can resist the combination of Drew Barrymore and Adam Sandler? Their chemistry is unmistakable, and this is arguably their best match up. Great music, great story…and Billy Idol. We're sold.
Hitch – Everyone loves Will Smith. Not terribly high on the cheese factor, and it's fun at the same time. This flick should be high up in the date night queue for you and your sweetie.
500 Days of Summer – Joseph Gordon-Levitt and Zooey Deschanel are adorable together. Their relationship feels pretty relatable. You'll both enjoy this couples quirkiness. An all-around win/win.
The Princess Bride – Sword fights, pirates, villains and a beautiful princess. What's not to love? Ask your special someone if they'd like to watch this movie and they will definitely answer, "As you wish".
The 40-Year-Old Virgin – It's silly, it's slapstick and it's lewd. But, it's also sweet and, let's be honest, pretty accurate at times. Steve Carell is, as always, hilarious. A great date night choice for you both.
Love, Actually – Some think it's a rom-com, some call it a holiday movie, we call it a great movie and one that you both will love. Fantastic ensemble cast, featuring some of the greatest talent on the screen. It's full of twisted up love stories that we can all relate to. A definite must-see to add to your list.
There are many more great romantic comedies out there that deserve a date night viewing. What are your favorites?