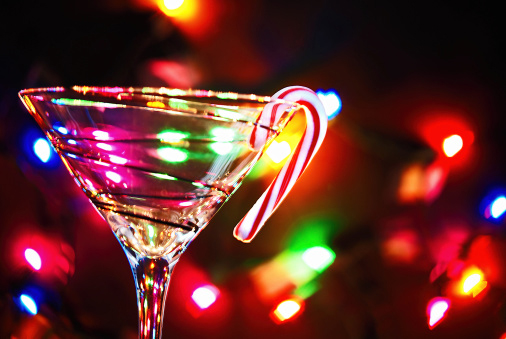 You don't always have to head out on the town to enjoy a delicious cocktail. Whether you are hosting a holiday party or enjoying a date night in with your special someone, these easy to make, and tasty holiday cocktails are guaranteed to raise your spirits! And as always, we are always looking for more great drink recipes so leave your favorites in the comments!
Red Eye Nog
Ingredients
1 ounce espresso
1 ounce coffee
2 ounces Ginger Hopwater
1/2 ounce maple syrup
1 ounce dark rum
3 dashes Angosturo bitters
1 dollop of "5 spice whip"
Pour ingredients over ice in tall jar or Collins glass, top with 5-spice whip and pinch of cinnamon. Serve with a straw to mix and enjoy.
"5 spice whip" recipe
pinch each of:
– cardamom
– nutmeg
– cinnamon
– ginger
– ground clove
4 oz. heavy whipping cream
1/2 oz. maple syrup
dash of vanilla extract
Whip together by hand or using an electric mixer until stiff peaks form.
Via: DrinkHopwater.net
Sparkling Charleston Cosmopolitan
 Ingredients
 1 cup crushed ice
3 tablespoons vodka
1 1/2 tablespoons peach nectar
1 tablespoon orange liqueur
1 tablespoon white cranberry juice
2 lemon wedges $
2 tablespoons sparkling white wine $
Garnish: orange slice (optional) $
Preparation
Combine crushed ice, vodka, peach nectar, orange liqueur, and 1 white cranberry juice in a cocktail shaker. Squeeze juice from lemon wedges into shaker. Place wedges in shaker. Cover with lid, and shake vigorously until thoroughly chilled (about 30 seconds). Strain into a 6- to 8-oz. glass; discard lemon wedges and ice. Top with sparkling white wine. Garnish, if desired.
Via: MyRecipes.com
Candy Cane Cocktail
Ingredients
1 candy cane, crushed, for garnish
2 ounces strawberry vodka
4 dashes white creme de menthe
2 1/2 ounces cranberry juice
Ice cubes
Preparation
Place crushed candy canes on a small plate or saucer. Wet the outside rim of a chilled martini glass with water. Holding the glass by the stem, rotate the rim to coat with candy.In a cocktail shaker, combine vodka, creme de menthe, cranberry juice, and ice; shake until well combined. Strain into prepared glass; serve immediately.
Via: MarthaStewart.com
Citrus Sangria
Ingredients
2 (750-milliliter) bottles white Zinfandel
4 cups white grape juice $
1 sliced orange, lemon, and lime $
Preparation
Combine Zinfandel and grape juice. Stir in sliced orange, lemon, and lime. Chill 4 hours. Serve over ice.
Via: MyRecipes.com 
Hot Buttered Rum
Ingredients
4 T butter
½ tsp vanilla
½ tsp cinnamon
½ tsp allspice
½ cup pineapple juice
1T brown sugar
1 oz rum
Preparation
Mix 4 tablespoons softened butter with 1/2 teaspoon each vanilla, cinnamon and allspice and a pinch of nutmeg. Heat 1/2 cup pineapple juice in a mug; stir in 1 tablespoon brown sugar and 1 ounce rum. Top with a pat of the spiced butter.
Via: FoodNetwork.com
Santa's Sleigh Cocktail
 Ingredients
White sugar crystals – preferably coarse
2 cups store-bought eggnog, chilled
½ brandy
½ cup amaretto liqueur
1 tsp. ground nutmeg
2 scoops vanilla ice cream
4 cinnamon sticks
Preparation
Dampen the rims of 4 martini glasses and then line the rims with sugar crystals. Combine eggnog, brandy, amaretto, nutmeg, and ice cream in a blender; process until smooth. Pour mixture into martini glasses and garnish each glass with a whole cinnamon stick.
Via: FoodNetwork.com
Red Rudolph
Ingredients
½ ounce orange curacao
¾ ounce cinnamon schnapps
½ ounce vodka
6 ounces cranberry juice
Preparation
Heat the cranberry juice until it's hot.  Pour everything else into an Irish coffee mug and then slowly add the hot juice.  The temperature of the drink will be warm.  Top it with whipped cream and garnish with sugar sprinkles on top.
Via: MixThatDrink.com
Gluehwein
Ingredients
¾ cup water
¾ cup white sugar
1 cinnamon stick
1 orange
10 whole cloves
1 (750 milliliter) bottle red wine
Preparation
In a saucepan, combine the water, sugar, and cinnamon stick.  Bring to a boil, reduce heat, and simmer.  Cut the orange in half, and squeeze the juice into the simmering water.  Push the cloves into the outside of the orange peel, and place peel in the simmering water.  Continue simmering for 30 minutes, until thick and syrupy.  Pour in the wine and heat until steaming but not simmering.  Remove the clove-studded orange halves.  Serve hot in mugs or glasses that have been preheated in warm water (cold glasses will break.)
Via: Allrecipes.com
Holiday Mimosa 
Ingredients
¼ cup orange liqueur (such as Grand Marnier)
2 tablespoons white sugar
1 cup orange juice
1 (750 milliliter) bottle brut champagne, chilled
Preparation
Pour the orange liqueur in a shallow bowl; put the sugar in a saucer.  Dip just the rims of 6 glasses in the orange liqueur and then in the sugar to form a thin sugared rim.  Divide remaining orange liqueur and orange juice among the 6 prepared glasses.  Top with champagne.  Serve immediately.
Via: AllRecipes.com
Sugar Cookie Martini
Ingredients
6 oz. vodka
3 oz. butterscotch schnapps
3 oz. milk
Sprinkles for decorating rim
Preparation
 Wet the rims of martini glasses and dip in sprinkles.  Pour vodka, butterscotch schnapps, and milk into a shaker filled with ice.  Shake until well blended.  Using strainer, pour into martini glasses.
Via: WeAreNotMartha.com
The Grinch
Ingredients
3 oz. peach schnapps
3 oz. Bacardi 151 rum
12 oz. orange juice
4 oz. Sprite
3 oz. Blue Curacao liqueur
Preparation
Just mix all ingredients together in a large pitcher and serve over ice.