Date Night Cincinnati Fall Fest: Craft Beer, Food & Fun!
October 20, 2016 @ 6:30 pm

-

9:00 pm

Buy Now
Event Navigation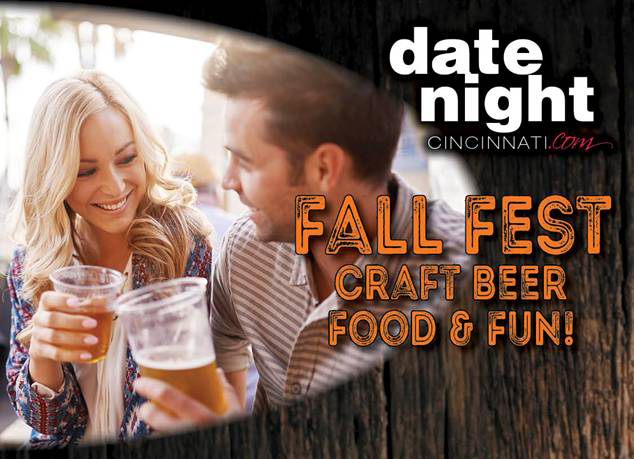 Join Us for Our Next Date Night Cincinnati Event!
We are excited to bring you another Date Night Cincinnati Event! This time around, we are hosting a fun-filled Fall Fest at Burger Farm. Come and experience an amazing adult-only night that will include Fifty West Craft Brews and Little Black Dress Wine, lite bites from local restaurants, a romantic hayride, a fun photo booth, seasonal cooking demonstrations by Out of Thyme (Fall, Fresh & Pig — Bacon Wrapped Pork Loin Stuffed with Apple, Sage & Sausage..) and Spicy Olive (Cranberry Pear Gorgonzola Cheese Salad), a Halloween Express Costume Fashion Show, music, games and more!
Couples' Package Includes: 4 Drink Tickets, Lite Bites, $10 Gift Certificate to Burger Farm and a Spooky Pumpkin.
Singles' Package Includes: 2 Drink Tickets, Lite Bites, $5 Gift Certificate to Burger Farm and a Spooky Pumpkin.
50 WEST BEER OPTIONS:
Sweet Home Brown, Blaketoberfest, shRED IPA & Doom Pedal White Ale
LITTLE BLACK DRESS WINE OPTIONS:

Pinot Grigio, Pinot Noir and Rosé
LITE BITES PROVIDED BY:
The Pub at Rookwood, Nicholson's Pub, Fifty West, Out of Thyme, Chili Rocks, The Spicy Olive, Gigi's Cupcakes, Slatts Pub, Indian Bistro, and Q'Doba.
VENDORS TO BROWSE & SHOP:
9Round, Styling with Amy, Corwyn Apparel, Pure Romance, Costco and PT Plus.
Enjoy a Romantic Hayride through the Great Burger Farm Pumpkin patch, Fun games to play as a couple, Great music, a real throwback to your youth — this time with a great craft beer in one hand and your better-half in the other!
Frequently Asked Questions
Click here to learn more
Q. What if the weather is bad?
The Date Night Fall Fest Craft Beer, Wine and Food event is under cover, so we will continue the festivities rain or shine. If the hayride is cancelled due to inclement weather, Burger Farm will be offering free admission to their daytime weekend festival so you can return and enjoy the hayride.
Q. When can we arrive at the event?
A. Our Date Night Fall Fest Event at Burger Farms officially "opens" at 6:30 pm, feel free to arrive as early as 6:15 pm. The food and beer won't open until 6:30 pm sharp, but the place is awesome and you can look around a little before it gets dark.
Q. Where do we park?
A. Burger Farm has a really large FREE parking lot on their property. Simply turn in from St. Rt. 32 (Cincinnati Batavia Rd.) next to the power line tower and find a close by parking space.
Q. If we can't find a sitter can we bring the kids?
A. Sorry, no one under 21 allowed in for this event. If you need a sitter we recommend preciousfamiliesnannyagency.com. Once you enjoyed your evening, make sure you bring the kids back for Burger Farms Weekend Fall Festival.
Q. Are there any discounts available for the event ticket?
A. Our Date Night Cincinnati Premium members enjoy a $10 discount on the $59 couple's ticket price. If you would like to become a Premium Member click here: datenightcincinnati.com/subscribe
Q. What if we want more drink tickets?
A. Additional drink tickets for $5, and non-alcoholic drinks, will be available for purchase inside the event. CASH ONLY.
Q. Where exactly is the event being held within Burger Farm?
A. When you park, you'll enter the event through the front gates of Burger Farm Garden Center and walk through their fall plant display area. Check-in desk will be under our Date Night Cincinnati sign at the end of that walkway.
Q. What happens if it rains that night?
A. The event will be held rain (within reason) or moonshine. The event is under a covered open air area.  You will stay dry as you enjoy your food, wine and beer! However if it is raining you might bring an umbrella to walk a few feet to the cooking demonstration, which is also under a covered open air area.
Q. How should we dress?
A. The event will be held outside (under cover in case it rains), so dress appropriately for a crisp fall night. There will be a firepit and plenty of beverages that will help you stay warm, but a heavy sweater or light coat might be nice.
Q. What's the deal with the hayride? Does the hayride stop in the pumpkin patch?
A. Every 15 minutes a tractor pulled hayride leaves Burger Farm up toward a pumpkin patch, loops around and returns. It doesn't stop because it will be too dark to see where you're going if you try to walk around. There is a small step to get on the tractor's hay-covered floor bed.
Q. What's included with our tickets?
A. Each couples ticket is good for two admissions to the event, 4 drink tickets, a spooky pumpkin,  and a $10 gift certificate to spend at the Burger Farm store that night or when you return anytime. There is no expiration date on the certificate (Not valid for drink ticket purchases).
Q. What is there to do besides enjoying great 50 West seasonal beers and lite bites from the Date Night restaurants available that night?
A. Tons of stuff!! There is a couples nerf shoot out, Halloween couples costume show and raffle to win the costumes, DJ music, cooking demonstrations by The Spicy Olive and Out of Thyme Kitchen Studio,  a romantic hayride, a magic show and a photo booth. Be a kid again and wander around to see the farm animals and Halloween animated walk through hay maze!.
Q. Is there an ATM machine available at the event?
A. A Fifth Third ATM is available inside the Burger Farm retail store.
Q. Is Burger Farm open as normal during the event?
A. Their inside retail store is open and you'll get $10 to spend that night or on a return trip! ($10 certificate not valid for drink ticket purchases). Great for Halloween decorations, pumpkins, corn stalks, mums, gourds, hay. No expiration date, used for Christmas decorations or next season planting.
Get your tickets now!

Featuring:
Meet and Shop Our Vendors:
*Vendors subject to change.
MUST BE 21 OR OLDER TO ATTEND.
For questions and more information about this event, please email support@datenightcincinnati.com.
Share this event with your friends