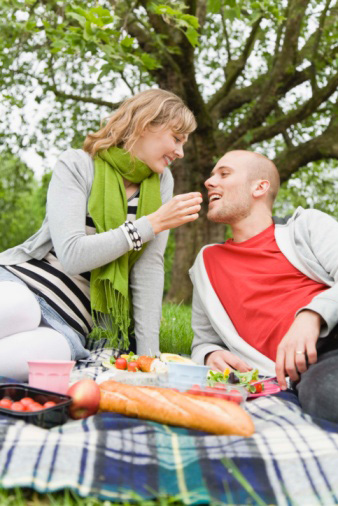 Most of our best days are spent outside – why not have one of your best dates outdoors too?! Cincinnati is filled with great outdoor activities whether you're a foodie or looking for more of an active date. Make plans with your special someone to try a few of our outdoor date ideas while the weather is nice.
Take Me Out To The Ballgame
Grab tickets to a baseball or football game and 'tailgate' at a local restaurant by having a drink and appetizers on their patio before the game, or share a frozen yogurt to end the night on a sweet note.
Be Outdoorsy
Go hiking, biking, boating, or play a sport together. The local parks of Cincinnati offer many perks including great trails, bike paths and boat rentals to take advantage of. Get competitive and play some basketball or a game of tennis- this can be a lot of fun and will allow you to teach other new tricks and show off your athletic skills. Park admission is very inexpensive and can be free depending upon the place.
Life's a Picnic
Pack a picnic and head to a local park.  Spread your blanket and spend some time together without distractions of everyday life.  Spur of the moment picnic?  Many area restaurants offer take-out options to make your picnic picture-perfect.
Be A Food Truck Foodie
Cincinnati is lucky to be home to a varied and thriving food truck community.  Create your own "food festival" by making a day of sampling some of the best the city has to offer and surprise each other with a new favorite dish.
Hit the Water (Mariemont)
Looking for an active date with dinner to refuel afterwards? Head out to Mariemont Crossing and go kayaking down the Little Miami River.  Afterwards head across the street to 50 West Brewing Company for some dinner and local beer.
FORE! (West Chester)
Grab your putter and challenge the one you love to a little putt putt golf at Monster Mini Golf. Afterwards, relive your golfing glory over a romantic dinner at Trinity Pub, located just 10 minutes down the road in West Chester.
Make Waves!
Wake Nation is a great spot to try something different and have a great time doing it.  Water parks aren't just for the kids!  Once you've worked up an appetite riding those waves, head over to Coco's Mexican Grill and enjoy a Mexican feast and a margarita to celebrate the day!
Mama Mia!
When it comes to romantic meals, you can't go wrong with Italian! Afterwards, head up to beautiful Eden Park for a romantic stroll. Still not ready for the date to end? Check online to see when movies are playing at the Seasongood Pavilion and add a classic flick to your night.
Show Your Love for The Cov
It is said that some of the best views of Cincinnati can be had from Covington. Visit Covington's Devou Park before sunset and take in some of the best, most romantic views of downtown Cincinnati. Afterwards, keep the night going with dinner at Forum restaurant where in addition to great food you can enjoy live music, eclectic cocktails, interesting wines, and much more.
Be A Tourist In Your Own Home Town
Find a local walking tour and you might be surprised at how much you didn't know about the place you call home.  Both Cincinnati and Covington are home to many beautiful historic neighborhoods with walking tours that are both informative and fun.  Once your tour is over find a romantic restaurant with a great view or a quiet patio and settle in for a few drinks and quiet dinner while you talk about your night.
Go Treasure Hunting
Grab your GPS and go treasure hunting!  Geocaching is a great way to get out into nature and spend quality time with your special someone.  Local parks are home to many geocaching locations and make for a scenic hike, too.  Pack a picnic and enjoy a lunch-time date while you are on the hunt, or stop and pick up Indian take out and a movie from the library and finish your date off with a quiet night in.