Instead of planning a normal trip to the theater, why not make it a little more mysterious and fun at The Murder Mystery Company?
For this showing, we checked out the play "Til Death Do Us Part."
We had no idea how this night was going to go since the play actually takes place at The Old Spaghetti Factory in Fairfield. Of course, it is a dinner theater, so instead of going to the theater for dinner, the theater is brought to dinner.
When we got there, all the actors and actresses stayed in character. One of the players, Hazelnut, guided us to our table while staying in character as the "crazy cat lady."
"I wish there were more cats here," she told us as we were taken to get our "mugshot."
When you first arrive, you get your photo taken as if you were getting a mugshot. If you've upgraded to Gold Circle, you get two photos as a memento.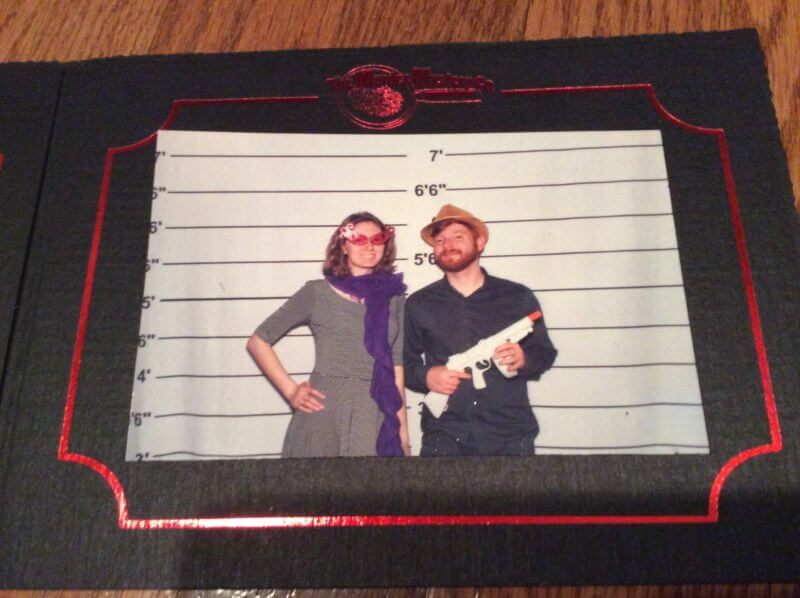 We looked pretty fierce in our pictures!
Once seated, several audience members are selected to participate. At our table we had Rhett the Butler. We also were given a binder that outlines his character and gives us a few clues.
It's a totally unique immersive experience, and we didn't expect to really be a part of it.
A small area in the front of the room acts as the stage, as all the actors and actresses play out the scene. Each character brought comedy and mystery to the play, and each person at our table always was questioning motives.
After the murder takes place, you're asked to look over your clues and begin interrogations. During this time, you are asked to walk around and talk to any of the people with name tags (cast members or volunteer audience members).
Throughout the mystery, you're served whatever meal you ordered prior to the show. I went with the mushroom and marina pasta, which was delicious! My boyfriend chose their spinach tortellini — also good! Before our entrees, we were given salads and drinks. (Drinks are not included.)
The interrogations were fun! We were given bribe money, which had questions to ask on the back. All participants had to answer the questions honestly in order to keep the show going.
At the end of the show, we were asked to write down the murderer's name and why he/she did it. This is important because the winner is chosen based on how closely they solved the murder.
Our group guessed the killer correctly, but we didn't have all the details. I'm still very proud of my table!
It was a super fun time, and it was cool being a part of the show! I would recommend this to a couple who is outgoing and likes to participate in these sort of things, because you are really part of the show.
The Murder Mystery Company still has this theme going, but they will have other themed shows, like a speakeasy/western show that is in the works.
Fun fact: Fergie and Al Pacino have attended a Murder Mystery Company production.