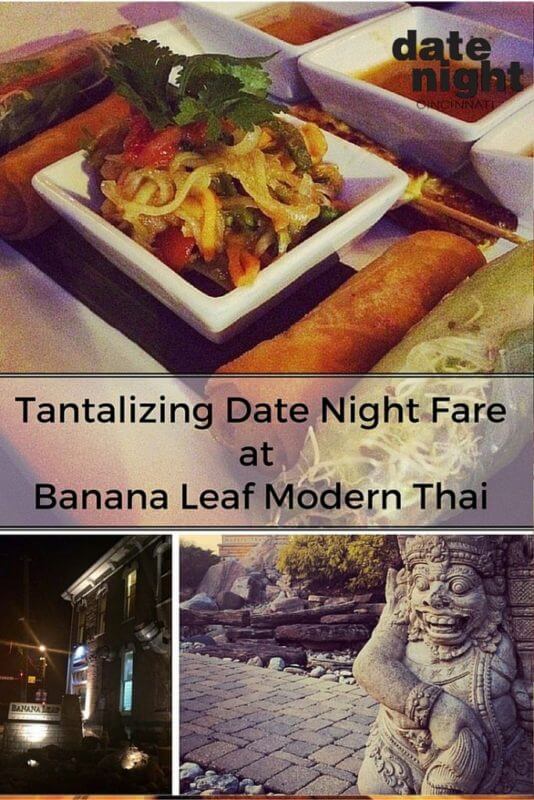 I LOVE Thai food, and I am happy to report that our first visit to Banana Leaf Modern Thai in Mason did not disappoint. The outside of the restaurant has a nice outdoor dining area, and the inside has charm with seating nooks in each room.
We made our reservations for 7:45. It's recommended that you make reservations prior to your meal, but you can also make reservations the day of your date.
We were seated in a cozy room that was great for a date night or night out with other couples. The seating was comfortable with great ambiance.
For appetizers we ordered the Banana Leaf Sampler. (Chicken Satay, Spring Rolls, Summer Rolls and Papaya Salad). Make sure that you try the peanut dipping sauce with the spring rolls — it was our favorite.
You can order a spice level of 1-5 with 5 being the hottest. If you really like heat, I recommend ordering Thai hot instead.
My husband ordered the Southern Yellow Curry at a level 3 for his entree. (Japanese potato, snap peas, carrot, onion, peanuts and beef.
I ordered the Pad Thai that came with a decorative egg netting on top.
We both really enjoyed our entrees. His meal was flavorful and mine had the perfect blend of heat and flavor.
For dessert we ordered the Coconut Creme Brulee. I would highly recommend trying it! It is served inside a coconut shell and has a unique flavor that pairs well with coffee.
We each had a mini french press full of delicious fair trade coffee that was the perfect compliment to our meal.
I would highly recommend this restaurant for a date night. This was our first visit, but will definitely not be our last!
Banana Leaf in Mason is located on 101 E. Main Street.
You can find out more about Banana Leaf Modern Thai from their Website.