Going out to lunch with my girlfriend, especially on a weekend during football or basketball season, is usually a huge sign of commitment because it shows I would rather spend time with her than watch sports. Well, at Lucy's on Monmouth, this is not an issue at all. In fact, it may become my new spot to get a good meal while watching a big game.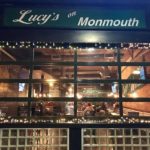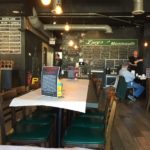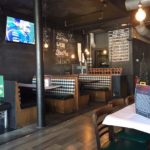 When I went this past Sunday with my girlfriend, we parked in the convenient on-street parking in front of the restaurant and were seated right as kickoff started. Our waitress immediately greeted us with a smile and seemingly never-ending drink menu. After looking at the food menu, we decided to take a few extra minutes to decide because we were too torn over multiple tasty choices. We ultimately decided to start with an order of mozzarella sticks, which are making my mouth water just by looking at the picture again.
After drooling all over myself, I loaded my plate full of the mozzarella sticks and then ordered a double burger with all the fixings, including a side of Saratoga chips. Although the wait for the food wasn't long at all, it felt like no time at all because I don't think I blinked when my eyes switched from one NFL game to another on all of the surrounding TVs. Once the food came out of the kitchen, my girlfriend had to borrow a spatula to pry my eyes away from the football games. It turned out that the view on the table was way better than any football game could ever be anyway.
Both of our burgers were cooked to perfection, which allowed me to finish mine in record time. Also, the Saratoga chips were a pleasant surprise. As a native Cincinnatian, my Saratoga chip/barbeque sauce standards are extremely high due to Montgomery Inn, but, if I may be so bold, Lucy's Saratoga chips and BBQ sauce give Montgomery Inn a run for their money.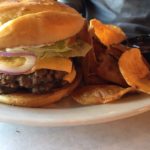 Once the meal was over and we were both grinning from ear to ear, both my girlfriend and I were extremely surprised at how inexpensive the whole meal was. For us each ordering a drink, one appetizer, and two entrees, we only paid a total of $34, including a well-deserved generous tip for the friendly staff.
Lucy's on Monmouth is a must try, especially if you enjoy good food in a fun, relaxed environment.