If you're looking to break the mold of a traditional date night, and want to find new date activities that incorporate the great outdoors, local parks are a great place to start! There are so many fantastic parks throughout Cincinnati and Northern Kentucky to discover, so what are you waiting for?! Get started with our list of some of the best NKY and Cincinnati parks our area has to offer!
PYRAMID HILL SCULPTURE PARK
Hamilton, OH ($8 Park Admission)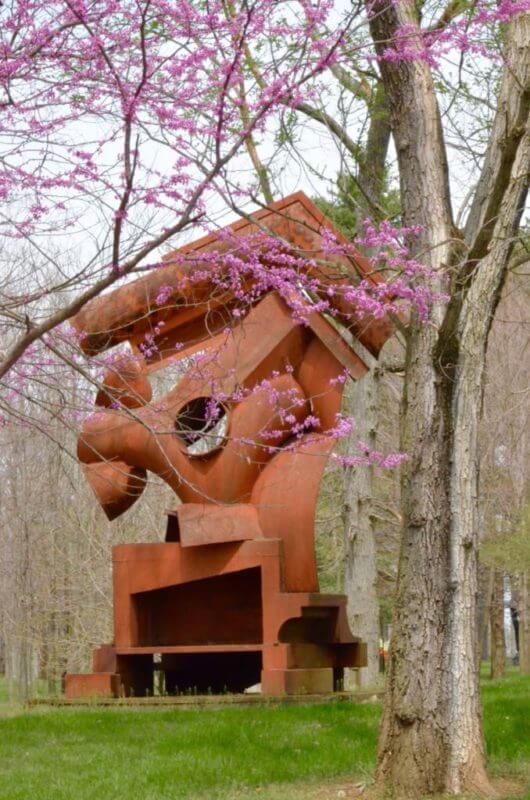 Located off the beaten path, Pyramid Hill Sculpture Park definitely should not be missed! It is unlike any other park in our area – it's an outdoor museum focusing on monumental pieces of sculpture in the midst of picturesque meadows, forests and gardens. The park itself also features a 10,000 square foot museum displaying ancient Egyptian, Greek, Roman and Etruscan sculpture. You definitely won't run out of things to talk about here, there's so much to discover!
Highlights:
It's a great outside-of-the-box date – artsy and outdoorsy, what a combination!
Want to try something different? Rent an Art Cart! Drive through the park on a beautified golf cart.
Check out the Ancient Sculpture Museum for the full-experience (Open daily, Noon-5 pm).
SHARON WOODS
Sharonville, OH ($3 Parking + Activity Fees)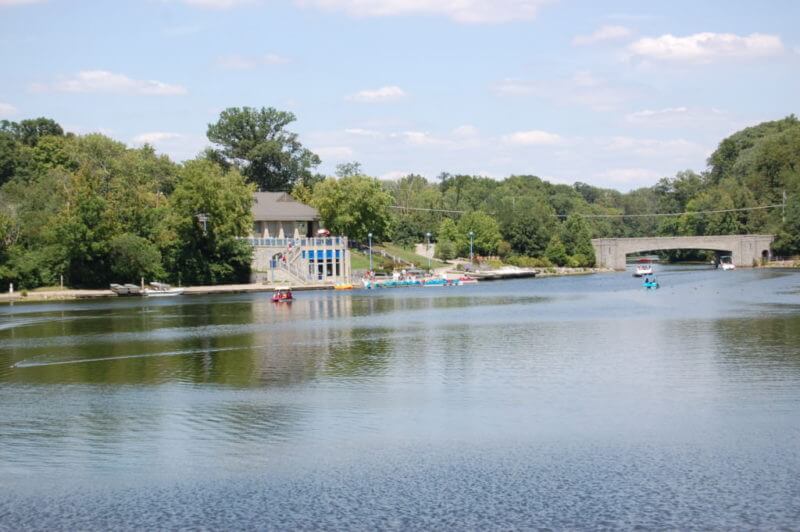 Sharon Woods is a beautiful 730-acre park full of recreational opportunities! The park includes a variety of trails for fitness, hiking and biking, as well as the Harbor Park for boating and fishing. Throughout the park there are also many green spaces for picnicking and opportunities to observe the area's diverse wildlife. Still haven't had enough? Sharon Woods also has a golf course, and is home to the Heritage Village Museum – there are so many things to do at this park!
Highlights:
This is a great spot for boating! They offer pedal boats, pontoons, rowboats, canoes, kayaks and motorboats for rent,
Bring your bike! Don't have one? No problem, they offer rentals.
If picnicking isn't your thing, they've got a snack bar onsite.
Check out Sharon Woods Gorge via the Gorge Trail, you'll find peaceful waterfalls and exposed fossils.
AULT PARK
Mt. Lookout, OH (Free Admission)
Beloved by many, Ault Park is one of the most striking parks in the Cincinnati area.At around 224 acres, Ault Park is the fourth largest park in Cincinnati offering breathtaking views and a ton of lush green space to enjoy. In addition, the park features a variety of nature trails, beautiful gardens, and we can't forget the grand pavilion – there are so many romantic spots scattered throughout the park. It's truly a versatile park – from relaxing to adventurous, the date possibilities are endless.
Highlights:
Tons of lush green space = a perfect picnic date (BBQs are also offered for cooking out).
Don't miss The Heekin Overlook offering a panoramic view of Lunken Airport and the Little Miami River Valley.
Definitely take advantage of the network of hiking trails the park has to offer.
Ideal location – plenty of restaurants and bars nearby to pair with your park visit.
WASHINGTON PARK
OTR ($5 Parking, Free Admission)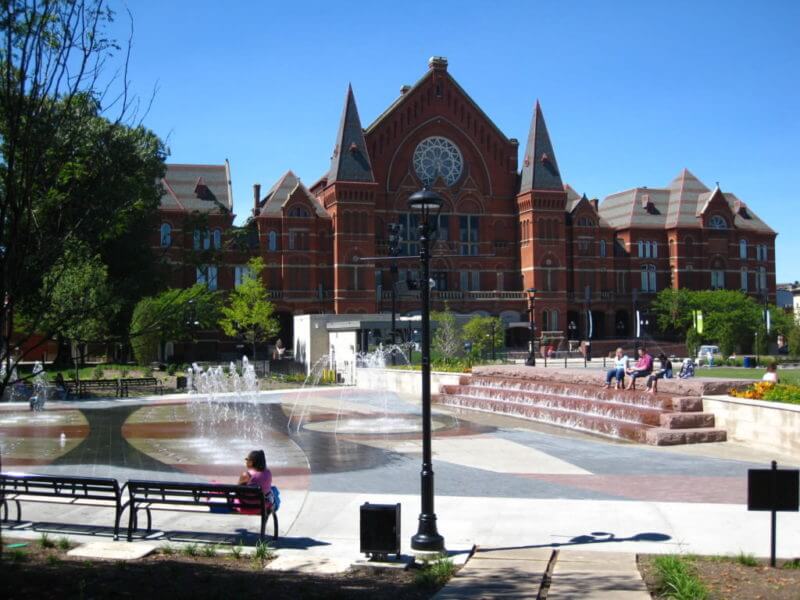 Located in the heart of OTR, Washington Park is a happening place – there's always something going on! It is a great starting point for a visit to OTR area shops, bars and restaurants. In addition, the park has many picnic-worthy spots, includes a dog park (perfect for those dog-friendly dates) and has a relaxing patio area serving alcoholic beverages and snacks. If you've never been, check out Washington Park, it is filled with date opportunities. We highly recommend making a visit on a weekend – you won't be disappointed!
Highlights:
The Deck is a must – offering snacks and a full-bar including local craft beer, wine and liquor paired with live music on the weekends – yes!
They've got a calendar filled with events, concerts and festivals!
Looking for something more active? Rent Cincy Red Bikes and bike through the park.
BIG BONE LICK STATE PARK
Union, KY (Free Admission)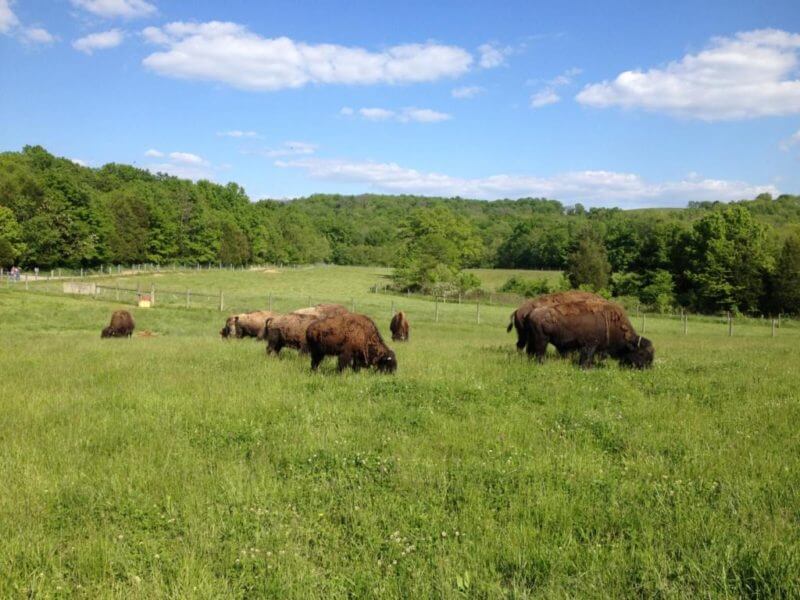 About a 30 minute drive from Cincinnati, Big Bone Lick State Park is worth the trip. It is a national natural landmark, and was once home to ancient creatures like the mammoth, mastodon, ground sloth and bison. This park offers a variety of fun things to do – there's a museum featuring exhibits from the area's prehistoric past, a miniature golf course, 4 ½ miles of hiking trails, a 7 ½-acre lake for fishing, a spacious campground, close to 40 acres of picnic grounds with tables and grills, tennis courts and we can't forget the bison herd. Pack a picnic lunch and head to this park for a full-day of date-worthy fun!
Highlights:
Want to experience everything the area has to offer? Make your trip into a mini weekend getaway and stay at one of the park's campsites.
Head to the Bison farm, you don't see that every day! • Strike up some competition; add a game of mini golf to your date.
Picnicking is a must here; with almost 40 acres of picnic grounds, you're sure to find the perfect romantic spot.
DEVOU PARK
Covington, KY (Free Admission)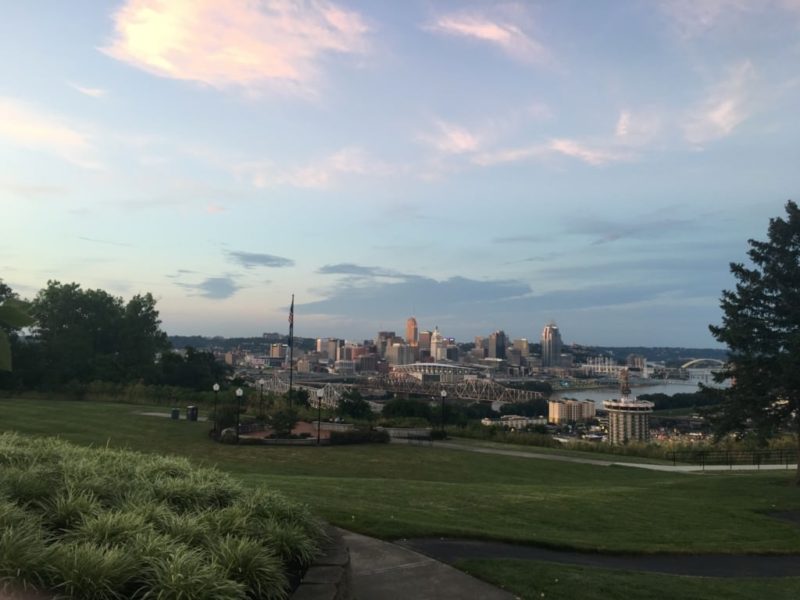 Nestled in the hills overlooking Covington and Cincinnati, Devou Park is the largest park in Covington spanning over 700 acres. This park offers an assortment of recreational and entertainment opportunities including a golf course, over 8 miles of mountain bike trails, plentiful picnic areas, an amphitheater, a fishing lake and nature trails. The park is also home to Drees Pavilion and The BehringerCrawford Museum. There are so many things to see and do here! Be sure to snap some pictures; a date at Devou will easily become a memorable experience.
Highlights:
Don't miss the Devou Memorial Overlook – the views are amazing!
Get your fill of local history at Behringer-Crawford Museum ($9).
Golf date anyone? Try their picturesque 18-hole course! • If music is more your thing, check out their summer concert series.
If music is more your thing, check out their summer concert series.
BOONE WOODS PARK
Burlington, KY (Free Admission)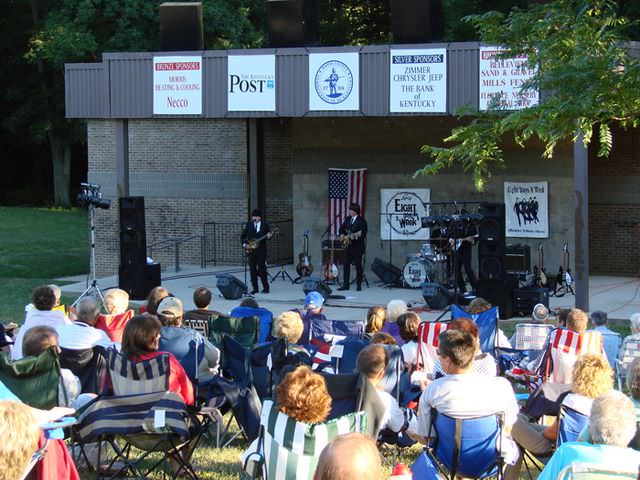 Boone Woods is a 50-acre park off of Route 18 in Burlington. Don't let its size fool you, as it features a variety of activities including an 18-hole disc golf course, bocce ball courts, horseshoe pits, basketball, tennis and volleyball courts. It is also home to the Creekside Stage offering free movies and summer concerts in the park. You definitely won't run out of activity ideas here, plan an active date and take it up a notch with a little friendly competition!
Highlights:
A great place to go for an active date – take your pick! Volleyball, tennis, basketball…
Never played Frisbee Golf? Try something new together at their course!
Check out their summer concert series or Shakespeare in the Park on Creekside Stage for some entertainment.
SMALE RIVERFRONT PARK
The Banks (Free Admission)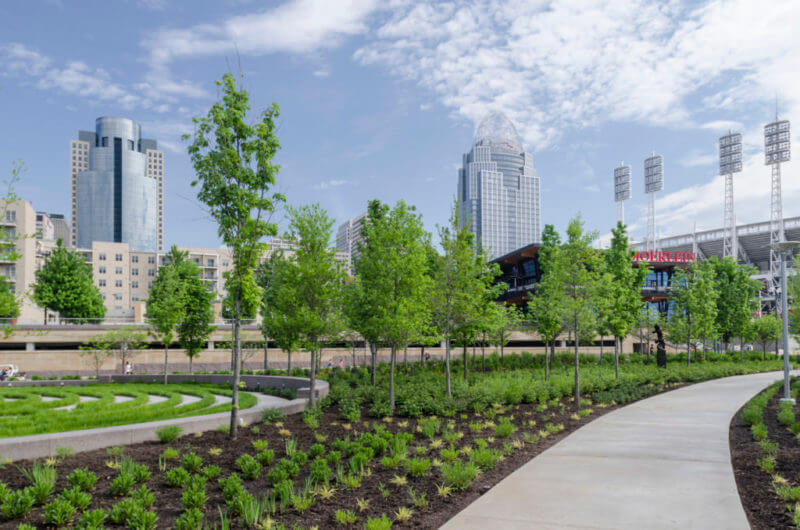 Smale Riverfront Park is the perfect spot to take in some amazing views of the Ohio River area. The park features fountains, beautiful gardens, several lush picnic spots, relaxing porch swings and is steps away from a variety of restaurants and entertainment venues. The park also offers paved walking and biking paths – take a romantic stroll or rent bikes and enjoy a ride together.
Highlights:
The porch swings are a must!
Location! Location! Location! It's easy to pair lunch or dinner at The Banks with a visit to this park.
For something more active – take a jog or bike along the river (rentals available at the Cincinnati Bike Center).
EDEN PARK
Mt. Adams (Free Admission)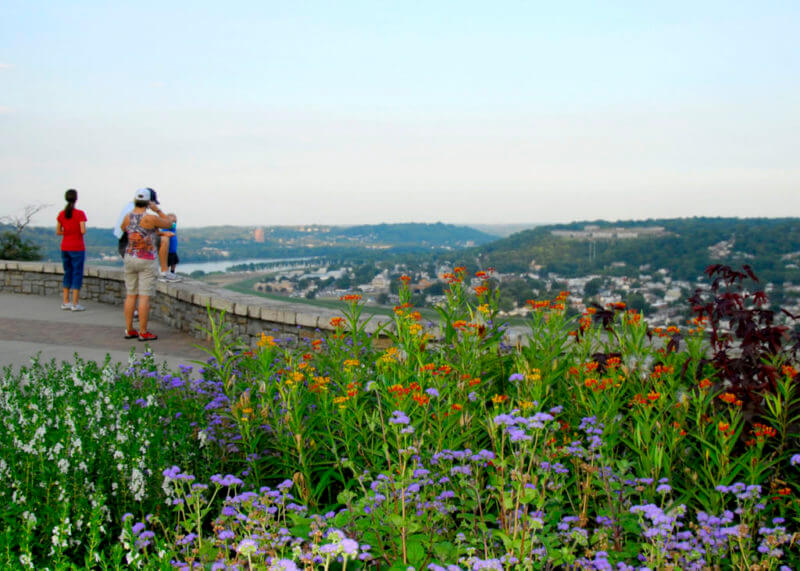 There are many reasons to visit Eden Park! It is home to the Cincinnati Art Museum, Cincinnati Playhouse in the Park and the Krohn Conservatory, plus it just happens to be one of the most popular of the Cincinnati Parks. It is a gorgeous park with a great location, and there is a lot to see and do – landmarks within the park include Hinkle Magnolia Garden, which features a picturesque gazebo, memorial tree groves and paths, Mirror Lake and the Bettman Fountain. The date possibilities are endless at Eden Park – if you've never been, you must add a visit into your date rotation!
Highlights:
Head to the top of Cliff Drive – the views are stunning!
Mirror Lake is a must; it's a beautiful spot to take a romantic stroll.
A variety of great restaurants are nearby if you're not in the mood to picnic.
Check out the events, there is so much going on here!
FRENCH PARK
Amberley, OH (Free Admission)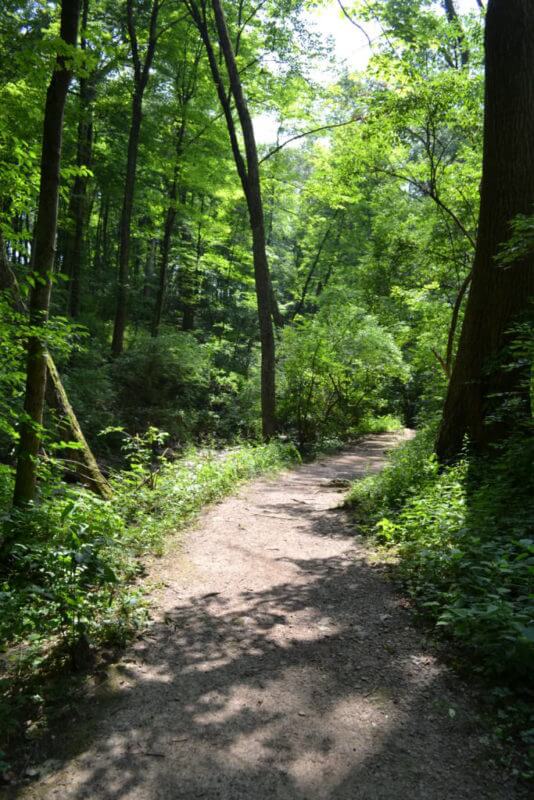 Located in the heart of Amberley Village at the intersection of Ridge and Section Roads, French Park is the former 275-acre estate of Herbert Greer French who donated the property to Cincinnati in 1943. The park offers miles of hiking trails, creeks, meadows, wooded hillsides and even a distant view of Cincinnati. If you're looking for a quiet place for a romantic picnic or just want to spend some quality time walking through the forest, give French Park a try – it's a beautiful gem you don't want to miss.
Highlights:
Hiking is a must here! There are so many great trails to experience!
Head to the hill at the top of French Park for spectacular views.
This park is dog-friendly; bring your dog(s) to mix things up.
Do you have a favorite local park or date idea we missed? Let us know below!