Until recently I had never been to the city of Hamilton, Ohio.   I had never had occasion to visit the city and now I'm wondering why.  Driving through Hamilton to make our way to our lunch-time date at J. Austin's Riverbank Café I could tell that Hamilton is a beautiful old city full of historic charm.  I was itching to get out of the car and snap some pictures on our way to lunch, but my husband was on his lunch break so I simply told myself that we'd have to come back to explore the city.  Also, on our way to lunch I saw a sign pointing to the Pyramid Hill Sculpture Park that I've been wanting to visit.  So now I had two reasons for which I needed to make a return trip to Hamilton.  But, do you want to know what makes me want to go back the most?  J. Austin's Riverbank Café.  I need to have some more meals at this restaurant!  It's worth the rather long drive (for us) to go back to J. Austin's to dine again.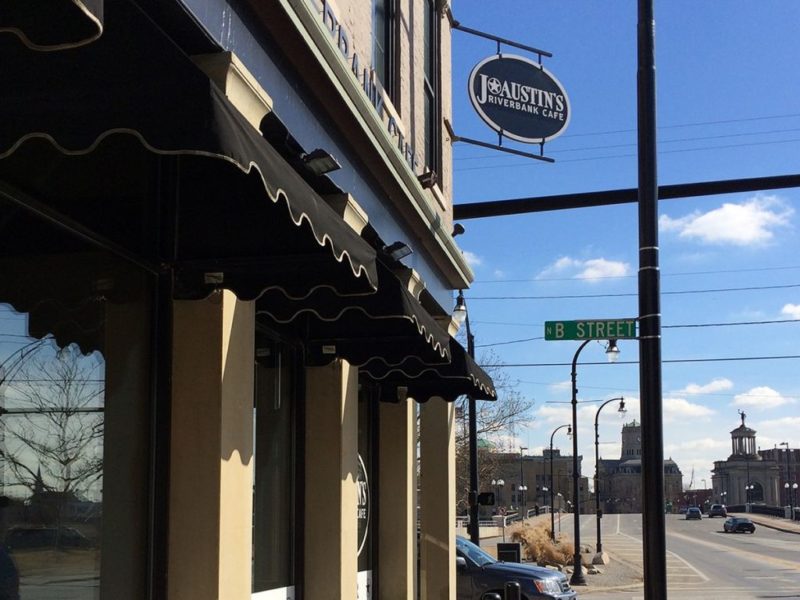 We visited J. Austin's Riverbank Café on a Friday afternoon…the day before Valentine's Day to be precise.  When you have four kids to wrangle, work responsibilities, errands to run, carpools and the other one million things on the to-do list, sometimes it's nearly impossible to get out for a date night.  When this happens it's fun to plan a lunch date!  We live in Northern Kentucky, but my husband works in West Chester, so every so often we will meet up his way to grab lunch together sans kids.   Dates don't have to take place after dark!  This charming restaurant with a menu full of Southern dishes is a great date spot.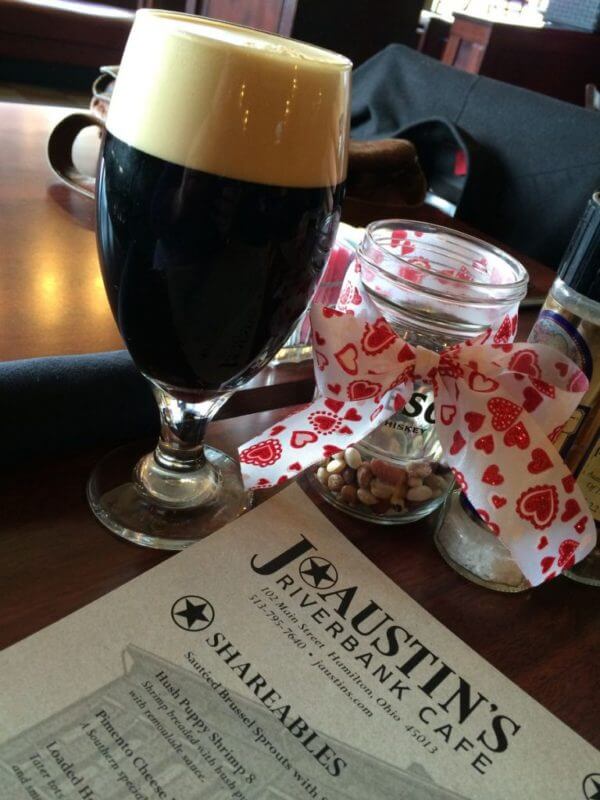 Even though it was daylight outside, we had a little candle on our table, complete with a Valentine's ribbon.  And even though there were other patrons at the restaurant, it's large enough that you don't feel like you are sitting right on top of the other people dining there.  Our conversations felt private and intimate; I did not feel like I was raising my voice to be heard or straining to hear him, as sometimes happens in restaurants.  It was a nice leisurely lunch filled with conversation and laughter (and no interruptions from our munchkins).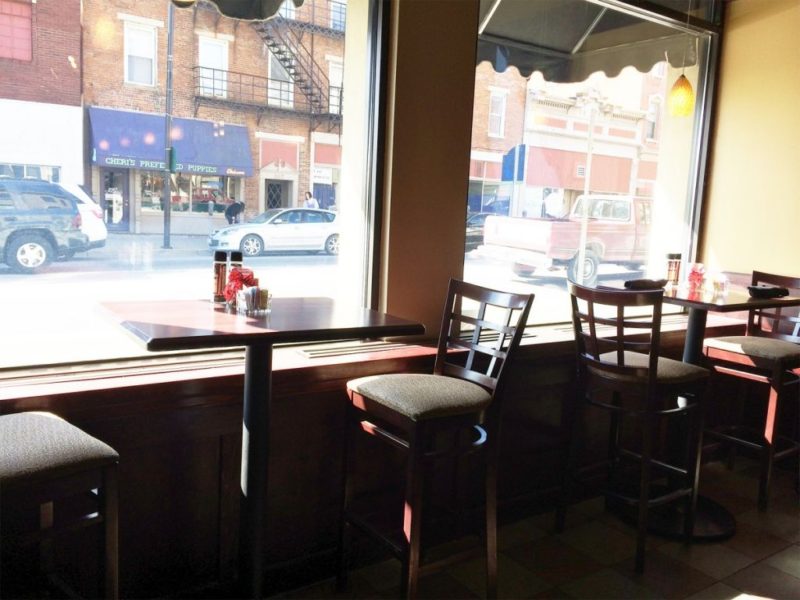 There are two rooms at J. Austin's, one has the bar and a small dining area, and the main room is a large room with many dining tables.  We choose a table near the front of the restaurant so we could watch the world outside.  It was not until we were halfway through the meal that we realized that the ideal seats in the restaurant were in the room with the bar, right next to the windows.  From tall tables next to the window in that room you could see the pet store across the street.  I cannot remember the last time I saw a pet store on a busy city street that had a pen of puppies in the front window that you could reach in and pet.  We watched people come and go from this pet shop, stopping to have a quick visit with the puppies and then leaving with a smile.  It was such a heartwarming thing to watch.  Along with the view of the Pet Shop, J. Austin's offers a gorgeous view of the river and the city of Hamilton.
But no matter where you sit in J. Austin's, you will get an eyeful of a handsome restaurant filled of history and charm.  There are old photographs adorning the walls, and the manager, Darren, takes pride in collecting historic relics from the area to display in the restaurant as decoration.  For instance, there are stacks of bricks above the bar that were collected when the old paper mill in town was torn down years back.  My husband was really interested in all of the historic items on display, and Darren was more than happy to tell us the interesting stories behind them.  I love that he was working so hard to give the restaurant some unique bits of history, and that he took the time out of his busy day to talk to us about it.
The manager was not the only friendly person at J. Austin's.  Everyone who worked there was cheerful and personable.  They were quick to take care of all of our needs, from filling water glasses to recommending their favorite dishes.  Our server was fantastic, one of those rare great servers who knows just when to stop by the table to check on you, and when to just leave you be to dine and chat.  We even got to meet Chef Q, who is apparently a magician in the kitchen…because all of his dishes we tried were amazing (more on that in a minute).  I love being at a restaurant where everyone seems happy to be working there and have pride in the restaurant, it shows in how well they treat their customers.  I felt like we were friends with the folks at J. Austin's by the time we left.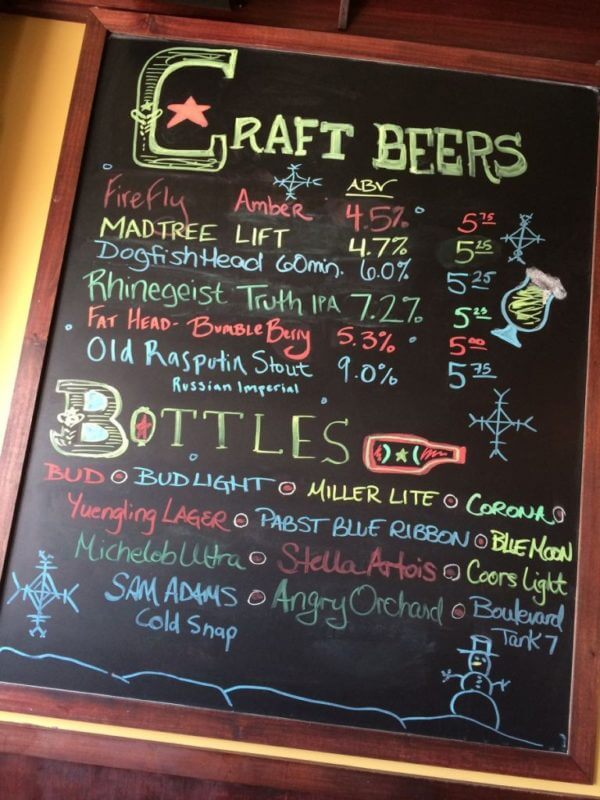 The bar offers the usual assortment of beverages, but we were really impressed by the craft beer offerings.  I was able to try a beer that is not available in Kentucky yet, so that made me a happy camper.  They also had several local beers on tap, and we love to see restaurants supporting the local breweries.  The bartender was very helpful when I was trying to pick out which beer to try, and she even offered me a taste to make sure I'd like it.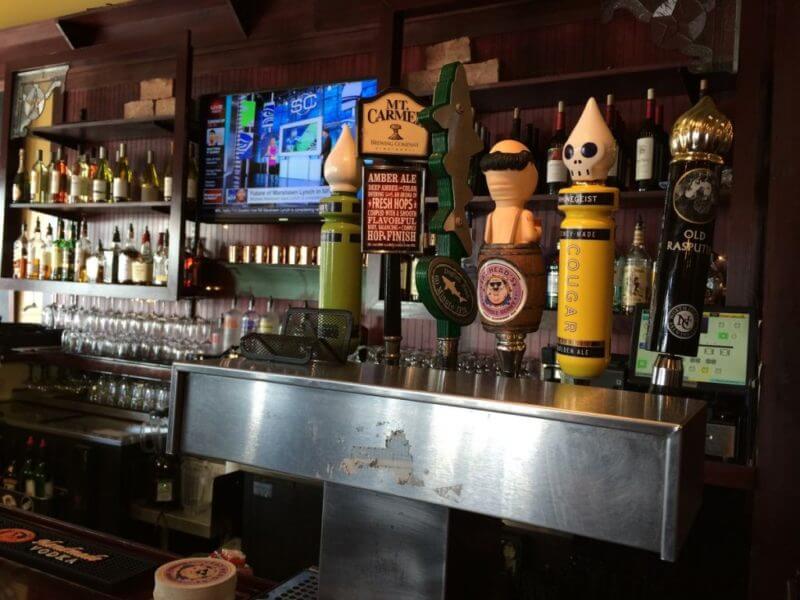 As I mentioned already, Chef Q is awesome.  His culinary creations are something to write home about.  We tried a couple different appetizers, the Short Rib Poutine and the Smokehouse Mac and Cheese.  Both dishes were fantastic.  I'm a huge fan of poutine, and Chef Q really does it right…with the perfect blend of ribs, cheese and fries.  It was heavenly!  The Mac and Cheese was deliciously creamy and cheesy with white cheddar and smoked gouda, but the best part was…it had bacon in it!   It could not get any better.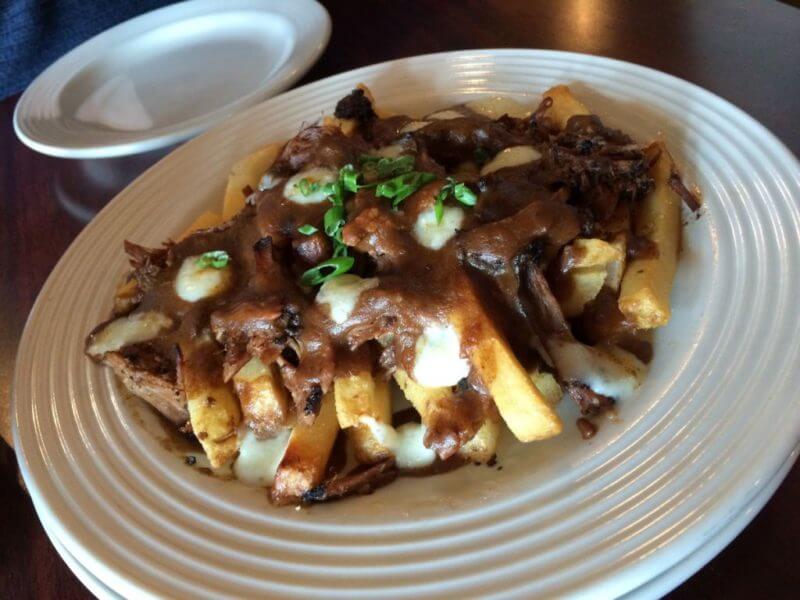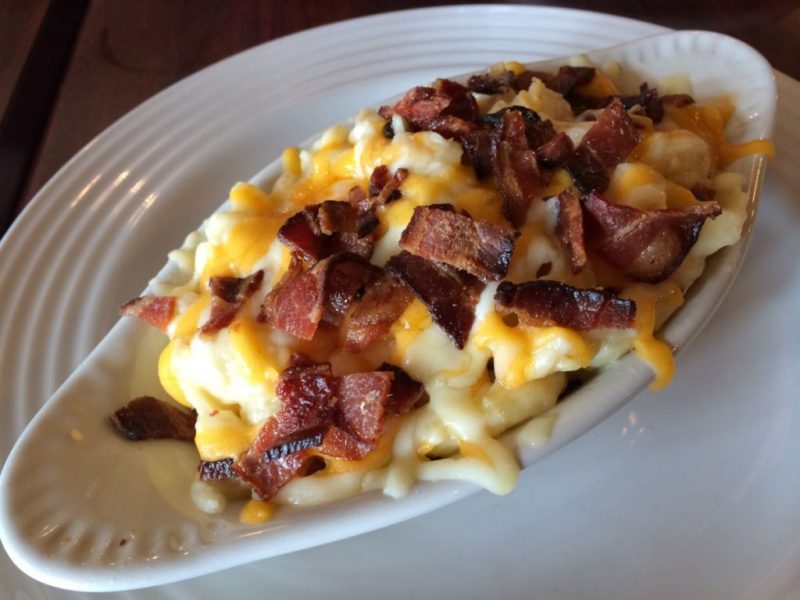 For our lunch I chose the Pork BBQ Sandwich and Michael had the Shrimp Po-Boy.  He declared it to be the best Shrimp Po-Boy he's ever had (and I tried it, so I can attest to that).  And my BBQ sandwich was quite tasty as well.  We left rather full and happy.  The entire menu is filled with dishes that sound enticing, so if you go to J. Austin's, I wish you luck in figuring out exactly what you want.  I always take forever deciding what to eat when faced with a menu so full of great items, so I tend to ask the staff what their favorites are.  This worked out perfectly for us, because their recommendations were spot on and our lunch was awesome.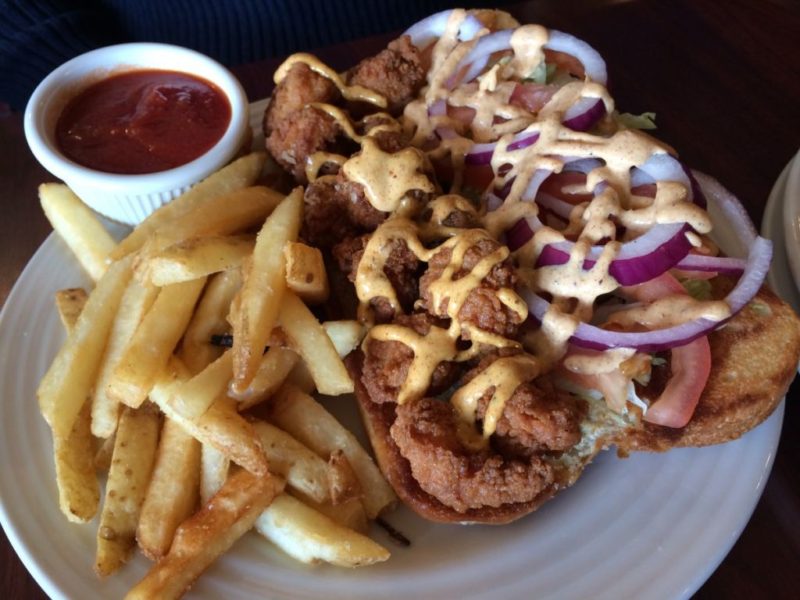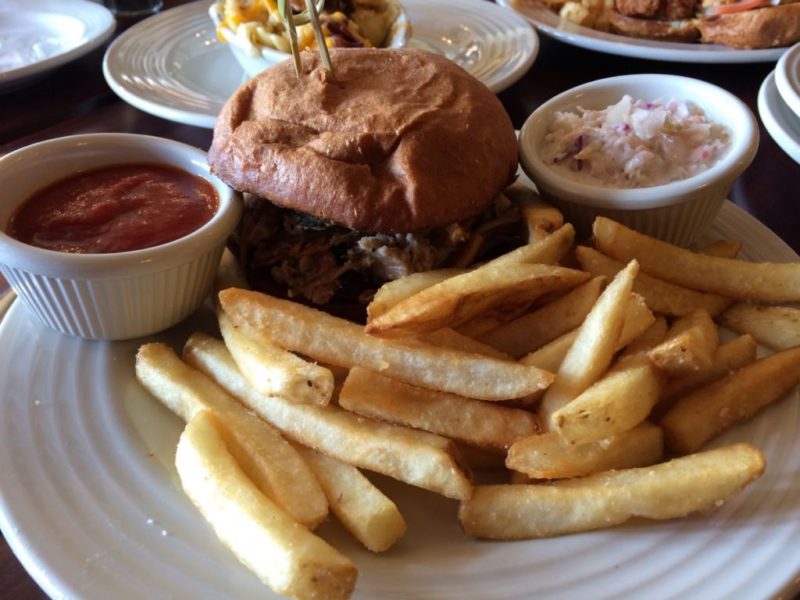 We truly cannot wait to go back!  It's a great spot for a lunch or dinner date…or a brunch date on the weekends.   My goal is to get up there again soon to try their brunch! J. Austin's Riverbank Café is located at 102 Main Street in Hamilton, OH. They are open seven days a week for lunch and dinner, with brunch on the weekends. Reservations are welcome, but not required.