The holiday season has arrived, and with it the promise of a fun-filled, exciting season of festive holiday parties, delicious food and trendy cocktails. But what if you find yourself hosting your very first holiday party as a couple, and you want to make the best impression? Or you've never hosted a party before, but want to really knock the socks off of your special someone and all of your friends? We've rounded up the essential holiday party hosting tips to help you create and execute the jolliest holiday party of the season!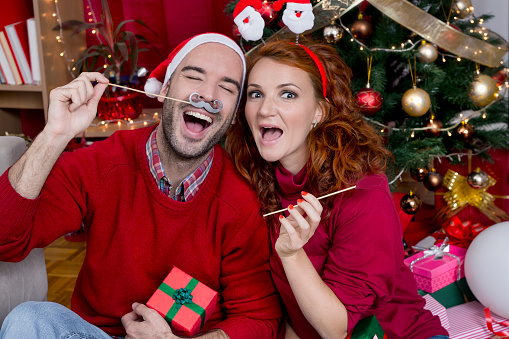 We all know how busy the holiday season gets for everyone — invite guests as early as possible, even two to three weeks in advance.
Consider hosting your party "open house" style if you are inviting a large number of guests to give everyone a chance to chat and spend time together without feeling rushed.
Create your menu based on your guest list, and be detailed!
Cook ahead whenever possible. Making appetizers, cookies, or brownie bites ahead of time and freezing them frees up your time the day of the event so you can put the finishing touches on the table or add decorations. All you have to do is reheat the appetizers and set the cookies and brownies out to thaw. Pinterest is a great resource if you are wanting to broaden your appetizer arsenal.
Serve a punch or set up a self-serve cocktail bar to free up your time for mingling during the party. You can also set up a festive hot chocolate bar with cinnamon sticks, peppermint sticks, marshmallows, cinnamon for sprinkling and fine liqueurs (Hazelnut Hot Chocolate? Yes, please)!
Don't spend your entire budget on expensive decorations from the craft store. Instead, opt for natural décor such as pine cones, evergreen branches, fresh fruit and candles to make colorful displays on the table and other areas of your home.
Don't forget the music! Set up a playlist with classic holiday songs. Mix it up and add some of your favorite hip-hop, pop and or rock songs so you don't end up singing along to Rudolph the Red-Nosed Reindeer over and over again throughout the evening.
Want to break out of the typical holiday party mode? Consider one of these great party ideas instead:
Reverse holiday party – Everyone has heard of 'Christmas in July', so how about Beach Party in December? Beach balls, mojitos and margaritas, grass skirts and Hawaiian shirts take the place of snowballs and egg nog.
Ugly Holiday Sweater Party – Round up your ugliest sweater and get ready to party. Vote for the best (worst?) sweater by secret ballot and award the winner with a trophy, ribbon or new sweater.
Holiday Song Karaoke Party – If you don't already have a karaoke machine you can rent one, or simply round up some karaoke music on your smart phone and prepare to belt it out.
Gingerbread House Decorating Party – Who says that decorating a gingerbread village is just for the kids? You can set a theme, such as Disco-Land or The Walking Elves, or turn it into a competition and give awards for Best Candy Curating, Most Creative, Best Use of Icing, etc.
Our best hosting advice for the perfect holiday party is just to have fun! Don't overthink it — the most important thing you can do is simply welcome your guests warmly and share your time.  More than anything – the holidays are for spending time together and having fun. Enjoy!