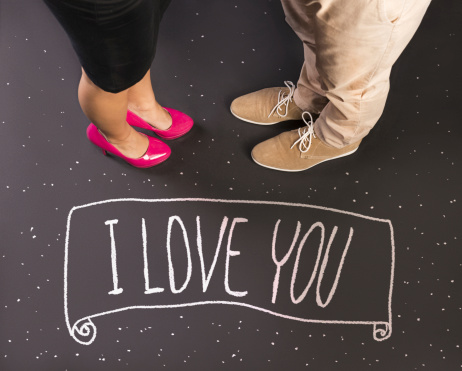 We say the words "I love you" sometimes without even thinking; that doesn't mean it isn't heartfelt, but it can become habit. Maybe you haven't spoken the words yet, but you'd like to tell someone how you feel without saying the words out loud. There are — dare we say it, millions of ways to show someone how much you care without ever opening your mouth. We narrowed it down to five, and hope you'll agree that these five ways to say I love you are lovely and sweet ways to share your feelings without saying a word.
Say it with a note – Leave a handwritten note for your loved one. "Have a wonderful day," or "Dinner is my treat tonight – you pick," are all wonderful ways to let your special someone know that you are thinking about them even when you aren't together.
Say it with food – Take off work a little early and cook dinner. Maybe pick him/her up at work and surprise them with dinner out – your treat. Pick up their favorite dessert on the way home or maybe drop off their favorite lunch on a particularly busy or stressful day at work. The opportunities here are endless!
Little unexpected gifts – Has she been looking for the next Sookie Stackhouse novel in paperback? Or maybe he loves the Mission Impossible movies so much he can quote them. Did you find out that his favorite band is in town in two months and tickets go on sale today? Finish that book collection, watch Mission Impossible 3 one more time or treat him to those tickets. Nothing says "I love you" like a little surprise to brighten your sweetie's day.
Anticipate their needs – If you know the week is going to be a little stressful at work, take the initiative to get school lunches packed, do an extra load of laundry or just be available for a backrub or foot massage. Does he always have a cup of coffee first thing in the morning – one creamer, two sugars? Make sure it's waiting for him when he stumbles into the kitchen. Does she like to take a long, hot bath then climb into bed to catch up on her Netflix queue on Friday nights? Light some candles, pick up her favorite bubble bath and get the bed ready with fresh sheets. Just knowing what your partner needs or those little things that make them happy really go a long way towards showing how much you care.
Know when time apart is the best way to say I love you – It's a bit cliché, but distance (even short ones) does make the heart grow fonder. Encourage your loved one to spend time with friends, family or co-workers without you. While you may love each other, and love spending time together, there is something about spending time with friends and family that nurtures all of your relationships — even the one you share with your partner. Encourage your special someone to keep doing all of the things that helped you fall in love with him or her in the first place.
The truth is, just tuning in to your special someone, finding those little actions that will have special meaning to them and taking the time to make a gesture – no matter how small – is the key. Simple, thoughtful gestures speak volumes when words fail.
What do you think? What are some of the little ways you say "I Love You" without saying a word? Share in the comments!