On a snowy Friday evening in late January, my wife and I headed east to Fifty West Brewpub for some comforting and hearty fare. As we drove along Highway 50, winding our way through the quaint and quiet neighborhoods of Columbia Tusculum, Fairfax and Mariemont, we felt the city lights fade as concrete sidewalks gave way to tree lined avenues and rolling hills.
Living downtown, it's nice sometimes to ditch the loud energy of OTR bistros and chic eats for a rustic, casual night out. Nestled in a colonial farmhouse, Fifty West Brewpub takes you back to a simpler, slower time. With Americana and folk tunes softly resonating from within, the restaurant beckons guests to come inside and unwind with delicious food and, of course, an outstanding selection of beers.
Wood and brick dominate the interior of the dining space, giving the restaurant a homey, cabin-like feel. Although the brightly lit bar with its flat screen TVs attracts a younger crowd, the adjacent dining area has a quieter, cozier ambiance. Luckily for us, my wife and I had the pleasure of sitting next to a wood-burning fireplace, adding even more rustic charm and romance to our date.
As with any good trip to a pub, we both started our evening with a couple of draft beers. My wife chose the Doom Pedal White Ale, which tastes like a cross between Blue Moon and a Hefeweizen. This creamy, refreshing pint balances sharp herbaceous coriander with bright orange peel, with a smooth finish. I opted for a darker, stouter brew, the Going Plaid Scotch Ale. This Great American Beer Festival award winner has a fruity edge that harmonizes perfectly with its malty richness.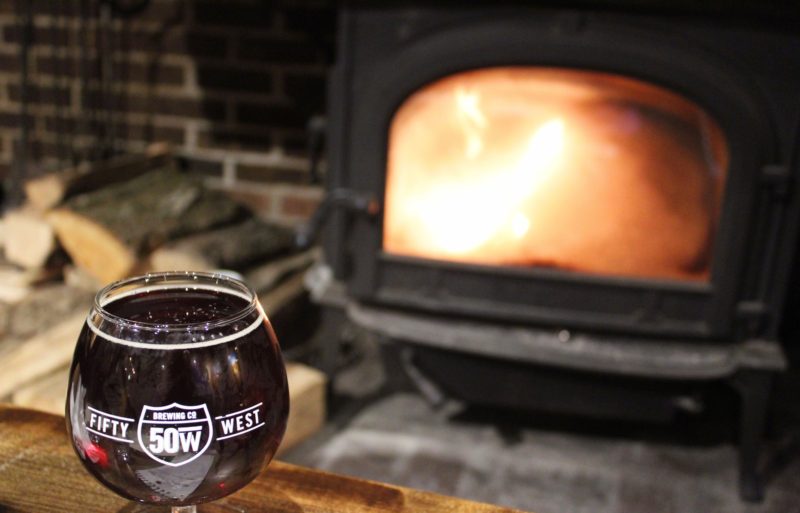 Both beers made excellent accompaniments to our dinners, and they had us excited to return for more. For those seeking to sample more of Fifty West's perennial and seasonal drafts, I recommend ordering a tasting flight. Additionally, the beer list includes detailed descriptions of each beer's flavor profile, making food pairing much easier than at many other restaurants.
In the minds of most, pub food conjures images of fulsome burgers, heavy sauces and a cornucopia of battered, fried offerings. Fifty West bucks a typical bar menu and instead boasts unique dishes, refined flavors and elevated eats. While one can still enjoy pretzels, wings and even a classic mushroom and Swiss burger, Fifty West's menu is as eclectic as its namesake highway, which winds from Ocean City, Maryland, across the Heartland to Sacramento, California.
For a first course, my wife and I indulged in one of the restaurant's more distinctive dishes: roasted squash panzanella. Fifty West ups the ante on the standard Tuscan bread salad by ditching tomatoes in favor of succulent and smoky butternut squash, pork belly and beets. With crunchy croutons, delicious red onion slices and peppery mixed greens, rich and savory gives way to bold and bright, creating a composed and complex bite befitting an upscale café.
My wife and I typically are not salad eaters, but Fifty West's panzanella left us hungry for more. This rustic Italian salad was surprisingly delightful, and dare I say it, hearty, and it set the stage for a wonderful meal. With logs crackling steadily on our left and the low hum of engaged conversation mingling with drifting tunes overhead, my wife and I relaxed away the stresses of the workweek and eased into the evening, eager for our next course.
As an entrée, my wife settled upon the Shrimp Bánh Mi sandwich with a side of tomato bisque, Fifty West's "soup of the moment" for the night. Black pepper brought a nice sharpness to the creamy bisque, mellowing out the natural acidity of the tomatoes. While the soup was vibrant and delicious, the star on the plate was undoubtedly the Vietnamese bánh mi.
Hoisin-glazed prawns give a barbecue-like depth and richness to the sandwich, which is enlivened by pickled vegetables, spicy jalapeño and fresh cilantro. The flavors in Fifty West's interpretation of the bánh mi rival those found at authentic Vietnamese eateries in the city.
To complement my stouter beer, I indulged in an equally heavier main course: Steelhead Trout with garlic mashed potatoes. Meatier and fattier than its relative, the freshwater rainbow trout, Pacific steelhead has a rich flavor reminiscent of salmon that holds up excellently to thick sauces and bold spices. The salty and piquant rub reminded me of blackening seasoning, and it gave the trout a wonderful warmth and soulfulness.
Earthy and rustic potatoes combined with a lobster au jus and amber ale sauce to balance out the bright spice of the fish. The flavors of the dish melded beautifully. I enjoyed every last bite, and the smoky sweetness of the Scotch Ale paired perfectly with the strong seasonings of the dish.
My wife and I thoroughly enjoyed our date night dinner of elevated and eclectic eats, but Fifty West offers guests a host of other options to fit every palate. A robust flank steak, a vegetarian smoked beet club sandwich and even a decadent hot brown grace the restaurant's wide-ranging menu, and Sunday brunch is offered for those seeking a weekend indulgence.
Without a doubt, Fifty West is much more than a neighborhood pub. With refined flavors and a quiet and inviting atmosphere, this romantic date spot offers a quaint and cozy retreat for couples seeking fine food, great beer and the chance to relax amidst rustic charm.
EDIT: The menu items listed are no longer currently being served. Click here to view full menu.