Early October through the beginning of November is prime time to enjoy the colorful fall landscape in Greater Cincinnati and Northern Kentucky, and we've pinpointed some of the best places to get your glimpse. Grab your special someone, hit the road and take in the best fall scenery our area has to offer.
Ohio River Scenic Byway
Experience amazing river views as you travel through breathtaking hills and lush valleys filled with colorful foliage. The entire byway spans over 900 miles, however you don't need to travel very far to enjoy the beautiful views.
Hocking Hills
If you travel the Ohio River Scenic Byway you'll want to take your time traveling on the road. Not only is the drive to Hocking Hills full of the best of Ohio's beautiful scenery, but once you arrive you won't have any problem finding a fun way to spend the day – or the weekend.
Riverboat Row Scenic Byway
For something quick, try this one mile route along the Ohio River in Newport, KY. Watch the riverboats pass by the colorful landscape, and enjoy a meal at one of the restaurants along the river for an enjoyable afternoon outing.

Big Bone Lick Scenic Byway
A 20-mile drive beginning on Route 18 in Kentucky – head west from Burlington towards the Ohio River and continue along Route 338. End at Big Bone Lick State Park, and take in the panoramic views of the Ohio River in the midst of autumnal beauty.
Drive along the Little Miami River
Start in Lebanon and head north on I-71. Enjoy a spectacular display of fall foliage above the river as you cross over the Little Miami River Gorge. Head a bit further down on the highway and make a stop at the Fort Ancient State Memorial Park to experience more outdoorsy fall fun.
Red River Gorge Scenic Byway
Less than a three-hour drive from Cincinnati, the Red River Gorge is a must if you have never been. Experience breathtaking views of the gorge with the beautiful backdrop of fall splendor.
BONUS WEEKEND GETAWAY: If you combine a gorgeous fall drive with a love of good bourbon you get a fall foliage sightseeing tour on the Bourbon Trail! Pack a bag and plan your trip along the beautiful Bluegrass Parkway, through Louisville, Elizabethtown, and more as you follow the trail map to the next delicious bourbon stop.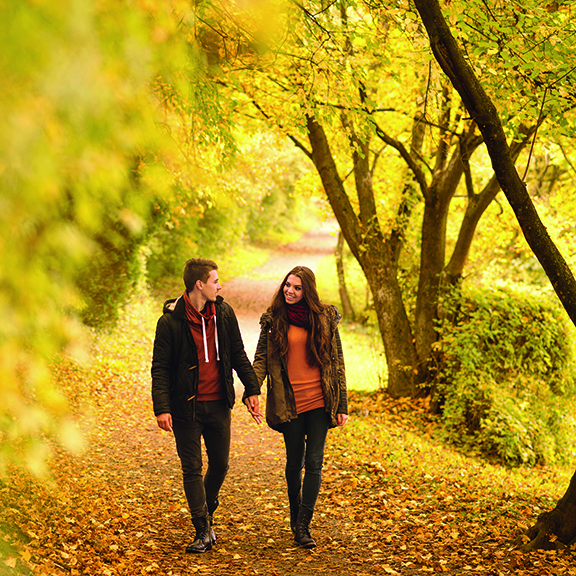 You can find an interactive map of Ohio's changing fall colors at www.ohio.org or on Kentucky's tourism website. www.kentuckytourism.com. Know of other great drives to discover Cincinnati fall foliage? Share them below!