My husband and I recently went on a date night at Capital Grille. We had heard so many great things and were excited to try it. Steak is pretty much my husband's idea of the perfect meal, and Capital Grille specializes in dry-aged steaks. So away we went!
We arrived early on a Sunday evening, because that's how we date. Early out, early home!  We are getting so old. It turned out to be the perfect time, as we had the place almost to ourselves for a little while — very romantic! The interior is just gorgeous with rich African mahogany paneling and lush, stately décor and beautiful Art Deco chandeliers hang in the elegant dining room. It's all very inviting and comfortable. We sat in the area near the bar that boasts an open air feel when the windows can be opened, weather permitting. That time will be right around the corner.
When we were seated, my white napkin was immediately swapped out for a black one, since I was wearing a dark shirt!  I thought that was classy.No one wants white lint on their black shirt, even though I had never thought about it until that moment!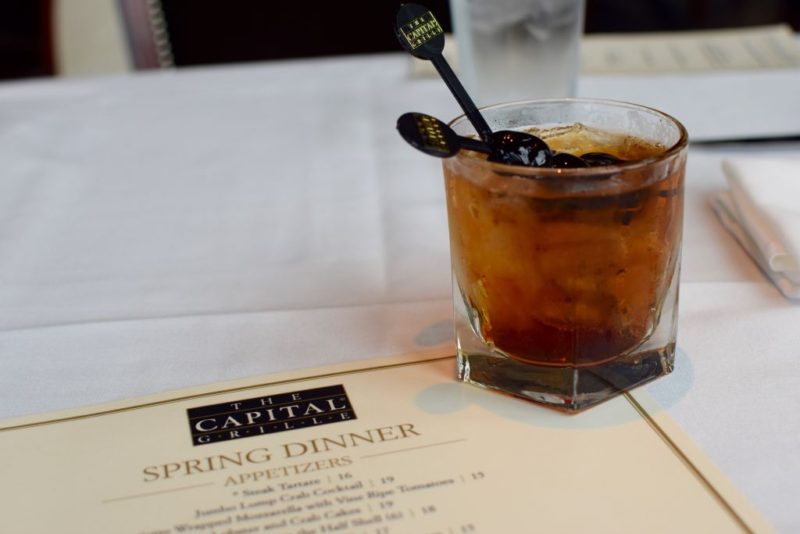 My husband started the evening with a Classic Manhattan, garnished with sour cherries, which he loved and declared one of the best he's had.  Then we both tried a sample of the Stoli Doli. Which has been the Capital Grille's Signature Martini since 1990. House-infused, fresh pineapple and Stoli Vodka. This is a must try — it was amazing!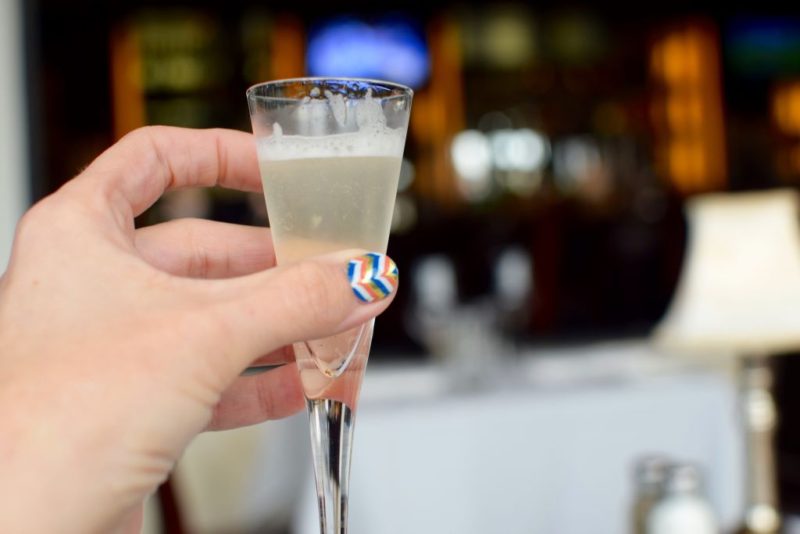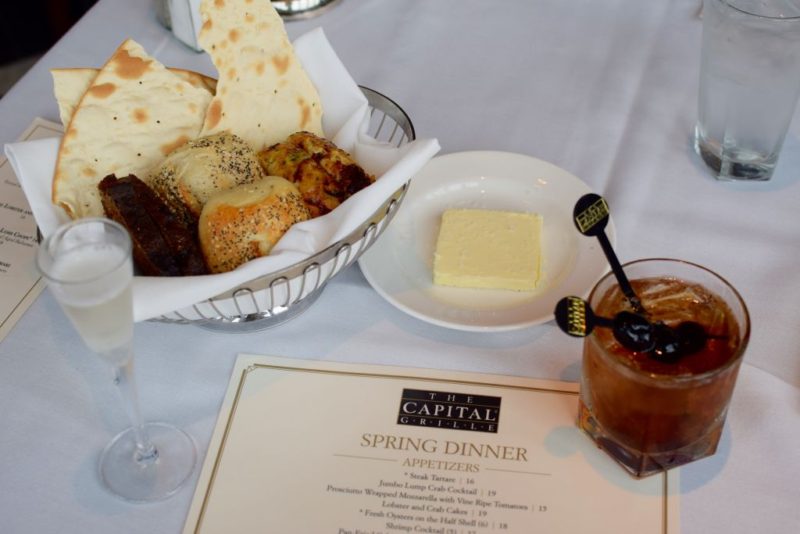 A beautiful basket of warm bread was brought out with salted butter while we looked over the menu and decided what to order. For appetizers, we chose the Jumbo Lump Crab Cocktail and the Prosciutto Wrapped Mozzarella. The chilled jumbo lump crab was succulent and sweet — this was my husband's favorite of the two.The lumps of crab were the biggest I've ever seen. It was served with a delicious house-made mustard sauce. I loved the mozzarella and prosciutto — perfectly salty and creamy. It was served with cheese toast and vine ripened tomatoes.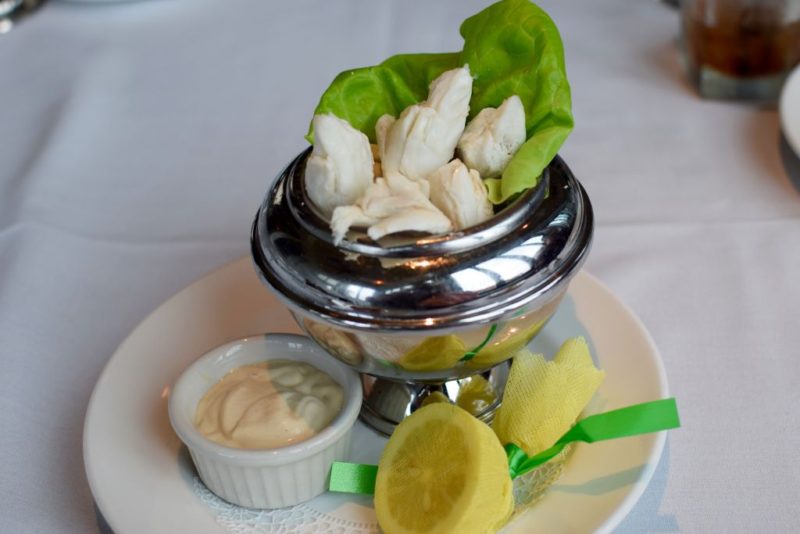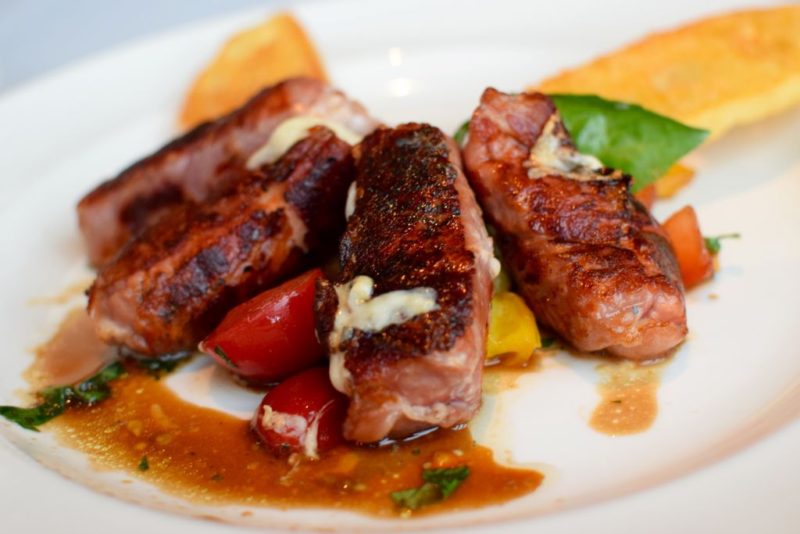 I ordered the Wedge Salad with Bleu Cheese and bacon. I could eat this salad every day. It was so cold and crisp. It was the perfect texture to go with the rich, creamy dressing with large bits of applewood smoked bacon and huge chunks of fresh Bleu cheese throughout. Since my husband didn't order a salad (presumably saving room for more meat) they brought him out a sample of the Spring Artichoke Bisque (So that he didn't have to watch me eat the salad alone). Of course, I tasted it and it was lovely. The flavor of artichoke was subtle, and it had drops of chive oil on top for a very nice silky texture.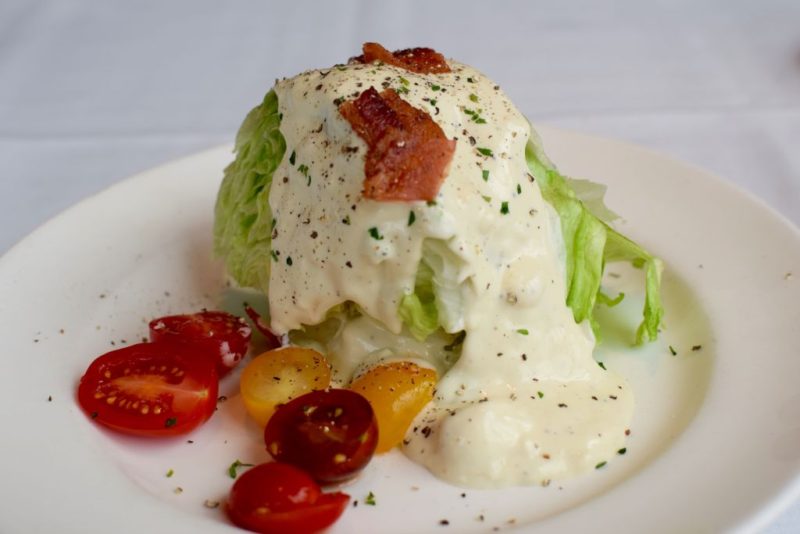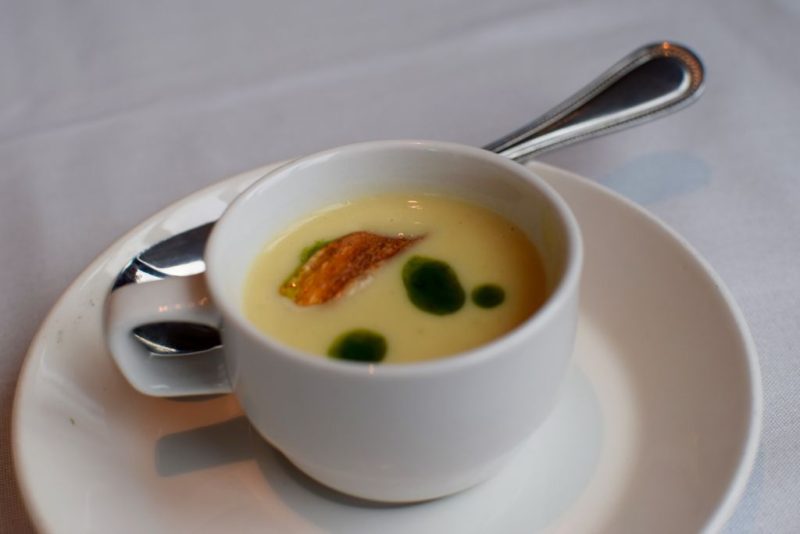 After the delicious appetizers, we were almost full. But, when visiting a restaurant that specialized in steak. You must order a steak! Okay, you don't really have to…they have amazing looking chicken and seafood dishes, as well. They even have a great gluten free menu. But, we went with steak!
Why are they so good at steaks?  Their steaks are meticulously dry-aged for more than 18 days right on the premises!  Dry-aging concentrates and saturates the natural flavors of the meat while tenderizing the texture. I was invited to check out the aging room by Chef Dave. It was amazing to see all those beautiful cuts of beef waiting for their turn to be hand-carved to order into succulent steaks for someone's meal.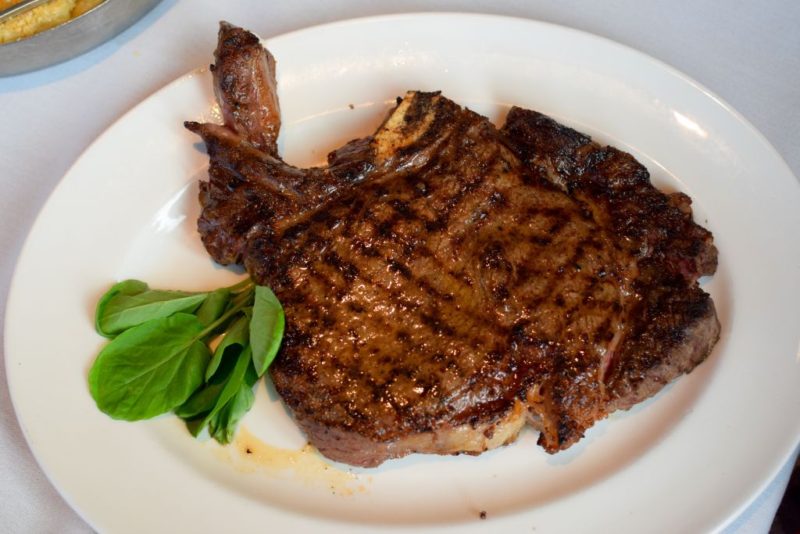 My husband chose the 22-ounce Bone-In Ribeye. It was enormous. He also declared that this was the best steak of his life. A date night win!  I didn't try it, because it was cooked to his liking. Not mine!  I'm a bit of a baby when it comes to the temperature of my meat. I went with the feature of the night, which our server said was his favorite. I made the right choice. The feature was for three 4-ounce filets prepared three different ways. My favorite preparation was the Kona crusted, coffee rubbed filet, served with caramelized shallot butter.The others were delicious as well. One was prepared with the house rub and the last had a delicate porcini mushroom crust and a 15-year aged balsamic drizzle.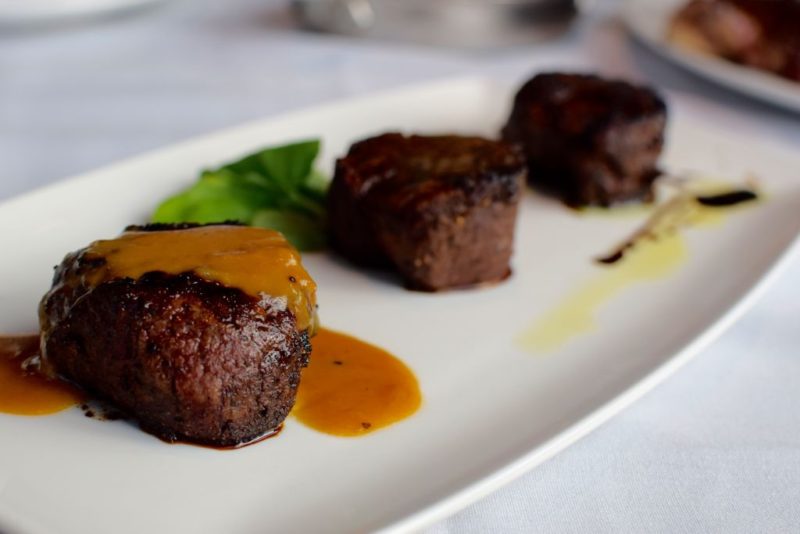 The sides were just as spectacular as the steaks. All of the sides (except the Lobster Mac and Cheese) can be ordered as a half side. So that way you can try more!! Bonus.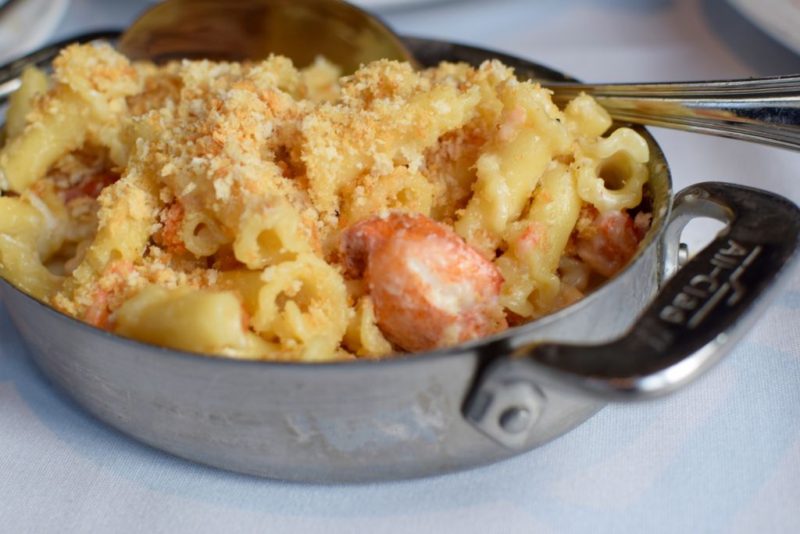 Speaking of Lobster Mac and Cheese. I mean, the chunks of lobster in that dish were no joke. Huge. You wouldn't want a half side of that dish. Believe me.
We tried the Au Gratin Potatoes, which were so rich and smooth.The Soy Glazed Brussels Sprouts with Bacon were my husband's favorite side.   (He wants me to learn to make them this way from now on. Apparently, my Brussels sprouts aren't up to par). These were prepared with a Hoisin Soy glaze and smoked bacon lardons (Lardons equal giant pieces of bacon). The Fresh Creamed Spinach was my favorite side. It was so buttery and delicious with a nice touch of nutmeg. Steak house perfection.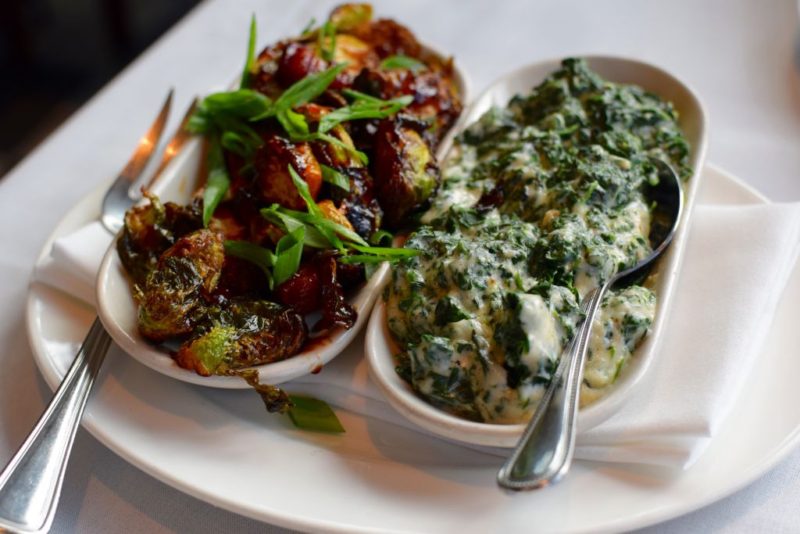 Of course, all of the food was out-of-this world. But, so was the service. Our server, Eric, was amazing! He was fun and knowledgeable. He made every bit of the dining experience even better.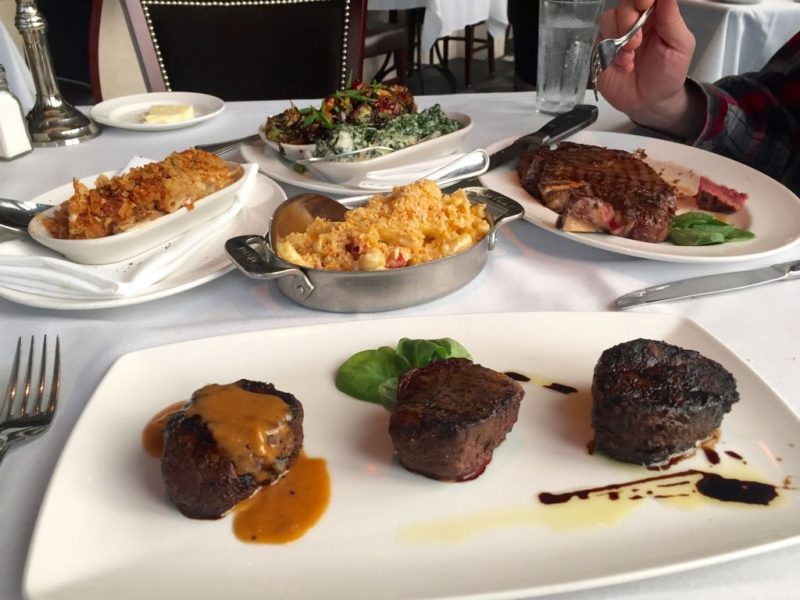 We definitely didn't need dessert after that spectacular meal, but of course, Eric had other plans and talked us into two. The Flourless Chocolate Espresso Cake was better than any chocolate cake I have ever had. And with no flour. What!? Order this! It's served with fresh raspberries, a perfect compliment to the creamy chocolate and espresso. The Capital Grille Cheesecake was delicious as well. It has a caramelized brûlée crust on top and it's served with fresh berries.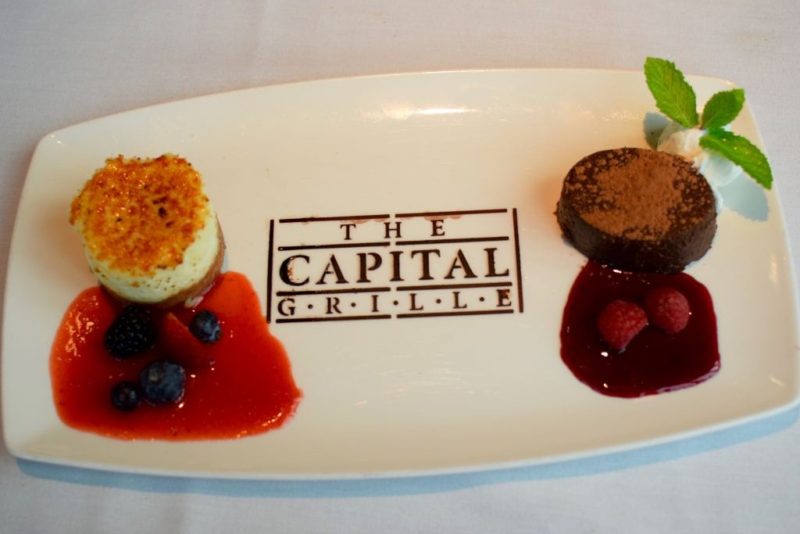 My recommendation is that if you are looking for a perfect steak or an elegant night out, you must visit Capital Grille. It was the best date night we've had! Fancy, but comfortable. Elaborate, but inviting. I felt like I was in a movie.
Romance Rating:♥♥♥♥ Pricing: $$$$