Beat the fast-paced holiday routine. Take a moment to connect with your special someone by starting one of these five holiday date traditions.
It's easy to get wrapped up in the craziness of parties and gift buying this time of year. Don't forget to take time to focus on one another as a couple. Creating holiday date traditions just might be the thing you need. Take time to reconnect and make the holiday meaningful for the two of you during this busy time of year.
Check out our ideas for starting new holiday date traditions and then tell us – do you have any holiday traditions as a couple?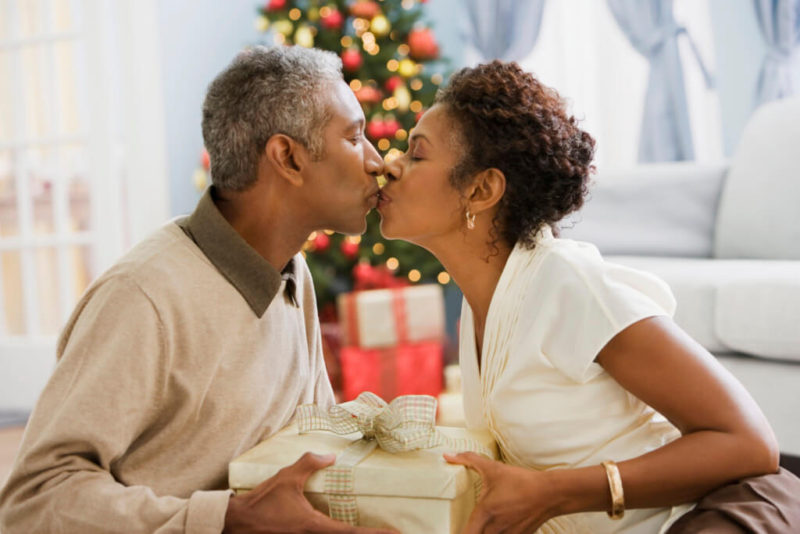 Santa's Helper Date Night.  Okay, so it's not a night out on the town, but cozy at-home dates are fun, casual, and romantic, too! Order your favorite take out or pizza and light up the tree. Then put on your favorite holiday movie, and spend the night chatting and wrapping gifts together.
Stocking Stuffer Shopping Double Date.  Call up a couple of friends and set a date for dinner and drinks. Then, split up (guys and girls separate) to shop for stocking stuffers for your special someone. With a friends perspective, you might get great ideas you wouldn't have otherwise considered. Plus, a night out with friends is just what you need for a break from the craziness of the season.
Progressive Shopping Date.  Make your shopping trip a special occasion by starting off with cocktails, coffee, or hot cocoa at one location. Head out to buy a round of gifts then stop for appetizers at a second location. Do a little more shopping, and then dinner at a third location. Well, you get the idea! Taking little breaks, especially when you're hitting multiple locations around town, makes your shopping trip fun. Getting to indulge in the many delicious eateries around town just adds to the holiday excitement.
Holiday Fun Day.  Pick a day and spend it together doing holiday themed activities: ornament making, trimming the tree, taking a drive through the holiday light displays, making gingerbread houses, baking holiday cookies – the list is endless. Spend your morning together indulging in a delicious brunch and talk about what your top activities for the day will be. You can find a delicious brunch spot in Cincinnati and Northern Kentucky with this list.
Have a Sweetheart Christmas.  The rush of the holiday season doesn't really come to a close until your last holiday visitor leaves. Don't let your special time together get lost in the shuffle. Save your own gift exchange for Christmas evening, next to the tree, alone with your sweetheart. Wait until the rest of the holiday rush has come to a close to savor and appreciate the gifts you so painstakingly chose for each other. It also allows you time to talk about your busy holiday and catch up with each other. Make the time you spend together absolutely priceless.