We put so much thought into our date plans, and think carefully when choosing a dining destination, but don't let your vigilance end there! There are foods that aren't the best dining choices when on a date, either because they are messy and difficult to eat or leave a lingering reminder of your meal. Check out our list of 10 foods to avoid on a date: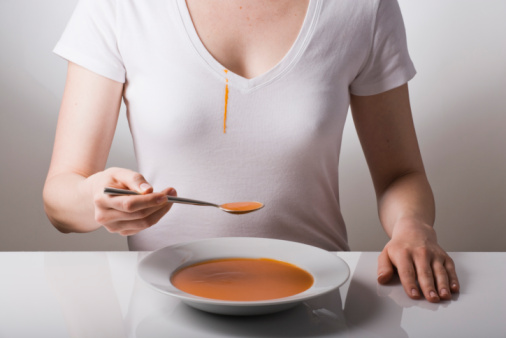 Corn – While it's not the most offensive food on this list, there's nothing easy about eating a piece of corn on the cob, and the fact that you'll have it stuck in your teeth for hours after dinner makes this a food best left for summer cookout fare.
Soup – You wouldn't think that soup would make this list, but think about how many times you've dribbled soup on your favorite shirt, slumped in your chair to try not to dribble soup on your favorite shirt, or slurped that same soup in an attempt to keep it on the spoon. As date night impressions go, soup slurping is not the way to put your best foot forward.
Whole seafood – Cracking open a lobster or crab leg may sound like a delicious way to spend your date night, but the entire business is messy and difficult, and let's face it – who wants to spend the rest of the evening smelling like butter and fish? Best to pass.
Seeds – Chocolate covered strawberries sound romantic, but their little seeds can lodge themselves in your teeth and take up residence very quickly. Without dental floss you will be sporting them for the rest of the night.
Ribs or wings – If you need a wet nap to clean up afterward, best to save that particular menu item for a night out with your friends.
Garlic or onions – This should go without saying, but unless you are both enjoying the scampi or garlic bread, you'll want to save the pungent flavors of garlic and onions for another night. Especially on a first date, when a goodnight kiss could also mean a second date.
Beans – This one shouldn't need explaining. Save the bean burritos for a night at home.
Spaghetti – While delicious, there's just not an easy way to deliver spaghetti from your plate to your mouth without chancing a spill or a slurp.
Big messy burgers – Have you ever tried to be dainty while eating a monster burger? It can't be done.
Spinach, mint, and other leafy greens – A big, leafy salad might sound light and tasty, and not particularly villainous as date night menu items go, but we've all heard the cliché of spinach stuck between your front teeth, and who needs that kind of pressure? We're not saying you should shy away from the 1st course salad, just keep in mind that the wedge salad might be a safer bet than the spring greens with mint dressing.
Have you ever experienced a date night food embarrassment? Share in the comments!